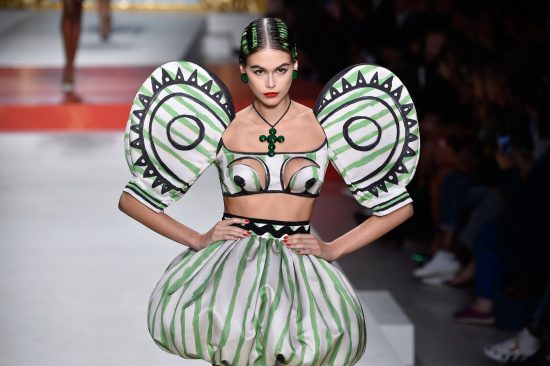 The worlds of fashion and fine art collide in Moschino's spring 2020 Milan fashion show. Milan's fashion week took place on the 17th – 23rd of last month in September. Moschino, the fashion power haus made a tasteful attempt to commemorate the modern master Pablo Picasso ( Málaga, 1881- Mougins, 1973). The show featured supermodels such as Bella Hadid, Joan Smalls, Cara Taylor and more strutting down the catwalk, breathing life into some of Picasso's most recognizable works. The Moschino creative director did not limit himself to one specific moment in Picasso's artistic career, pieces in the show reflect all periods it.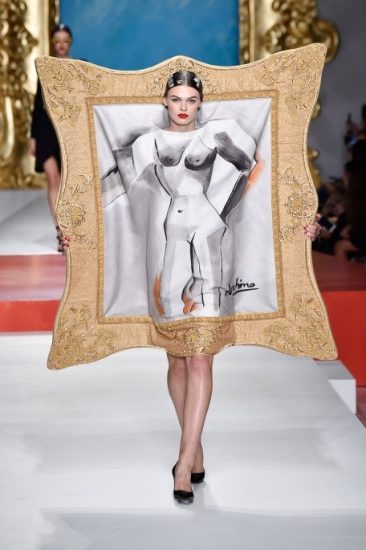 Head creative designer and owner of the Moschino label Jeremy Scott was inspired by Picasso and the muses in his work, he was quoted saying:
Muses inspire artists and artists inspire the world.

Owner of the Moschino label, Jeremy Scott
The muses that Scott refers to are the abounding female cameos that function as subjects in many of his paintings, prints, ceramics, etc. Unarguably, Picasso's consistent reference to the female subject alludes to the major role that the feminine had in Picasso's lifetime. The female models in this show would be intended to embody this vision. In preparation for this show, Scott spent a great deal of time researching these women of Picasso's life. He states: "He painted so many portraits of the same women over and over again," Scott adds, "His wives, his lovers, even his daughters. It got me thinking about the Picasso woman."  The women that drew most of his attention were painter Françoise Gilot and surrealist photographer Dora Maar. These women were two among a profuse amount of women featured in the work of Picasso, but what made them special to Scott were their own personal successes as artists and the exemplary way in which Picasso illustrated them. Both Gilot and Maar were illustrated in Picasso's cubist style which seemingly defies reality. Jeremy Scott attempted to emulate this in the garments featured in this spring 2020 show.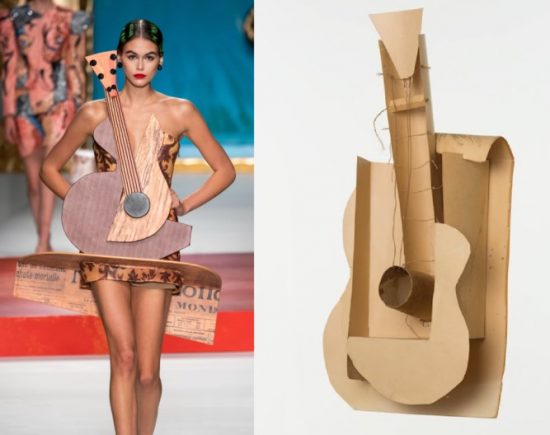 Ensembles from the show defy reality. Symmetry, angles, and shapes are distorted in respect to traditional cubist principles. This fractured and geometric style can be seen worn in one piece that is a rendition of his famous sculptural collage, Guitar (1912-1914). This dress encompasses many of the elements that Picasso utilized in his own collage work. Found materials such as wood linoleum and newspaper clippings as seen in collage works like Au Bon Marché (1913), are represented in this dress. Although impressive, Scott was cautious when creating this line. Many of these garments go against all practicality, making them difficult for the average consumer to wear on a day-to-day basis. To overcome this, the creative team at Moschino fashioned more minimalist elements to these ensembles that would make these designs more accessible. Subtle trouser sets and simple black dresses accompany some of the larger and more extravagant pieces like this wearable painting complete with a frame. This piece was regarded as the highlight of the show, and it is clear why as it brings a new sense of dimensionality to Picasso's work. Scott turns a conventionally two dimensional work of art into something that is three dimensional and can be worn. This wearable frame, Guitar dress and like others in this collection combine all of Picasso's signature cubist elements in a nuanced way that is able to reach a greater audience. This collection is set to release and hit Moschino retailers in Spring of 2020.