Pablo Picasso ventured head first into the ceramic medium in 1946 when, while he was vacationing with then-lover Françoise Gilot, he encountered the Madoura Pottery Studio. The pottery studio was run by Georges and Suzanne Ramié, a married couple who Picasso would have a long-lasting professional career with. Pablo Picasso Ceramics, also called Picasso Madoura ceramics and Picasso pottery, are widely renowned as a til now un-appreciated part of Picasso's magnificent body of work. Pablo Picasso Ceramics are a masterpiece of the medium, and contain all of the wonderful artistic elements that make Picasso a very successful and beloved artist. Picasso ceramics are a particularly excellent style of ceramic that showcases brilliant technique and thematic choices.
Materials
Unlike the rest of his ceramic oeuvre, all of Pablo Picasso ceramics are made from earthenware. More specifically, most are made from red terracotta, but some of the convex wall plaques are made in white earthenware.
Technique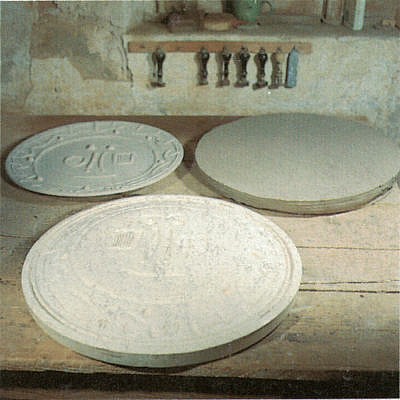 Most of Picasso ceramics plate's are made from original prints (O.P.), meaning that the image was engraved into a plaster mould, which fresh clay was then pressed into to get a positive impression of the image. The image to the left shows the three stages needed to create an OP image. In front is the engraved plaster (negative relief), in the top right is the fresh piece of clay, and the final product sits in the upper left.
A smaller number of the Picasso ceramics are created from a linoleum cut that was meant to be transferred to paper. The engraved linocut was casted in plaster, which the clay was then impressed upon. An example of this will be discussed in more detail later. Some plaques are also made from a plaster cast made from a linoleum engraving - these could also be made specially for imprinting ceramics.
In seeking to understand Picasso ceramics plaques, the different decorative strategies employed must be discussed. Some Picasso ceramics are decorated with glaze, or partial glaze, and others are engobe decoration. Engobe is a liquid clay mixture, which can have added coloring oxides, and stays very vibrant for the lifetime of the piece.
Appearance
The plaques come in 3 shapes:
Convex wall plaque which comes in a smaller (18.5 cm diameter) and larger (25 cm diameter) size. The imagery on these plaques is mostly figural. The figures themselves are very simple and linear, and curve around to fit the shape of the plaque. The plaques are made from white earthenware and use a color scheme of ivory and brown. Each impression is given three different treatments, leaving a final product of a plain version, and then two inverses in black and white.
The first is plain white earthenware with no added coloration.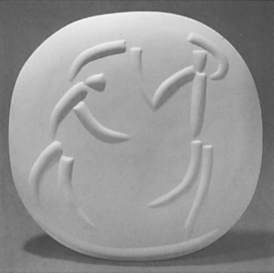 The second is engraving accentuated with oxidized paraffin and a glaze bath.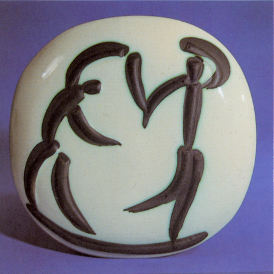 The third is engraving accentuated with glaze and black patinated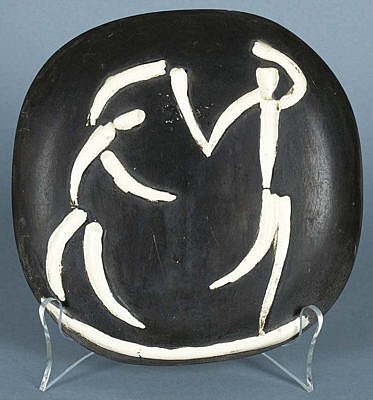 Plaques also come in square shapes ranging from 17 cm x 17 cm, to 21.5 cm x 21.5 cm, to the largest at 31 cm x 31 cm. Similar to the convex wall plaques above, the same mould is used to create multiple plaques that are differentiated by their coloring. Shown below are pieces titled Pablo Picasso Ceramic Visage aux cheveux bouclés (Curly Haired Face), 1968-1969. Looking closely, they are started with the same imprint, but were decorated differently. The plaque on the left have black engobe, and the other two are partially glazed in a myriad of colors. Though the underlying structure is the same, it is remarkable how Picasso manages to make the three faces look so different - they even appear to be looking in different directions.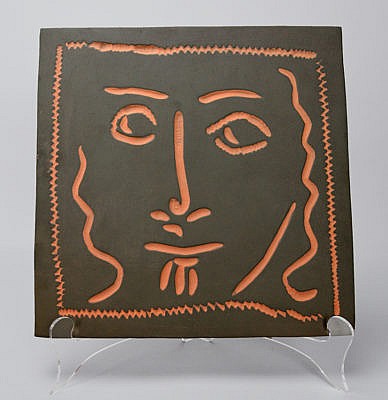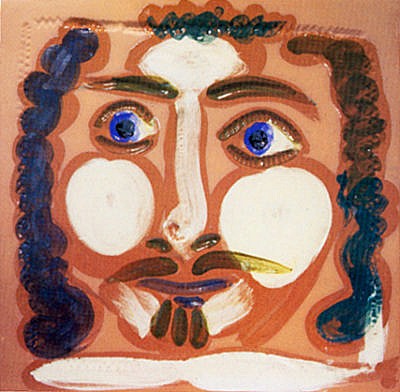 Most of these plaques are orientated with a straight edge as the 'top' of the image, with the exception of Pablo Picasso Ceramic "Lion's Head 1968-1968".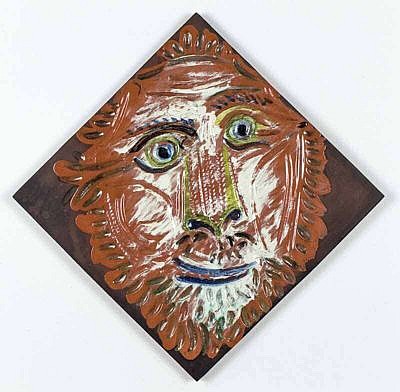 The square plaques are decorated mostly with faces - some more stylized that others. Picasso explores both genders, as well as the un-gendered. Animals, such as owls, also make up the imagery on some of these plaques. Some of the plaques have decorative borders, but most have the face take up the entirety of the plaque. Picasso ceramic "Cavalier and Horse, 1968-1969" shown below displays a decorative border around the riders. Picasso ceramic "Wood-Owls Head, 1968-1969" also employs a decorative border. On the right, we see Picasso ceramic "Face with Oblique Lines, 1968-1969", an example where the entire plaque is taken up by the face.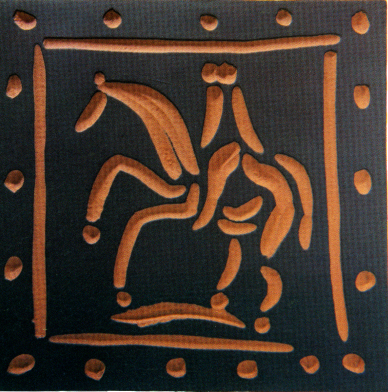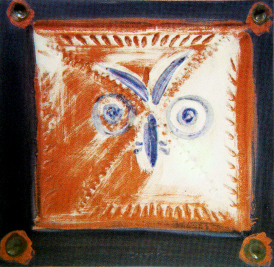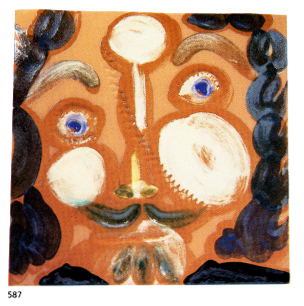 The final plaque shape is the rectangle. One collection, Picasso ceramic "Little Sun 1968-1969" is 10 cm x 16.5 cm, and follows the same decorative pattern as the square plaques.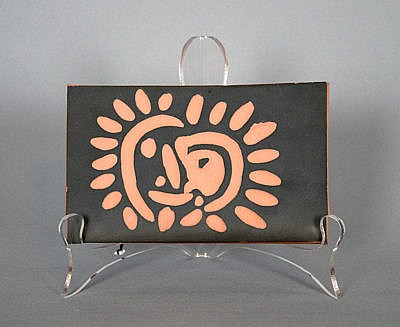 Picasso created another rectangular shape measuring 28 cm x 31.5 cm. This plaque remained unglazed and unpainted, so that its only coloring came from the red terracotta. This grouping of plaques is special in that they are all faces created by unique stamps that Picasso had used on a series of tiles. The result is a number of very abstracted faces.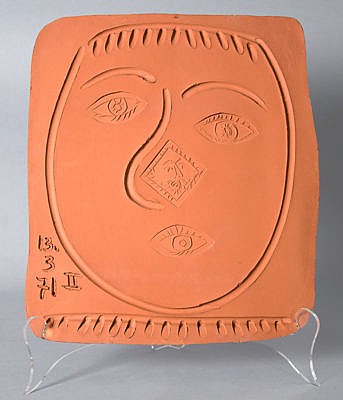 Themes
The same themes and scenes that show up in Picasso's greater oeuvre also appear in his ceramic plaques. Most of the Picasso ceramics are decorated with faces of women and men, some with more figurative scenes, and a handful containing animals and mythology - two subjects that feature prominently in other ceramic works.
Female Faces
Women were a favorite subject of Picasso's across his entire body of work, and it is not surprising that they feature amongst Picasso ceramic plaques as well. Most of the plaques detail obviously male faces, or ambiguous ones. One interesting note about the female faces is that they contain many of the formal elements as the male faces, such as the three lines on the chin in both plaques shown below.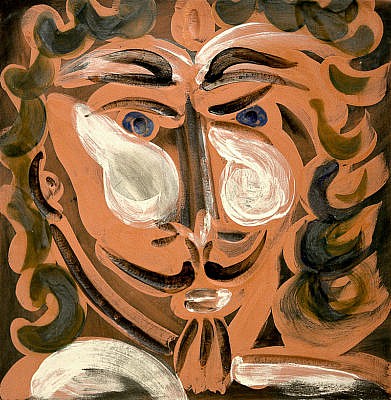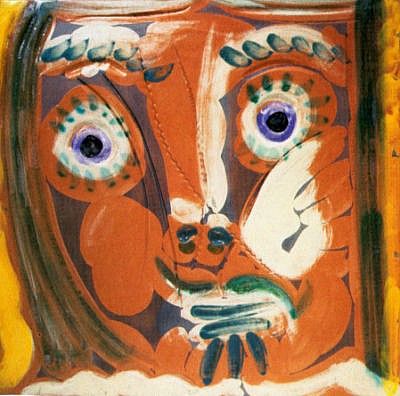 The only real differentiating factor between these two plaques in determining gender is that the name of the female plaque includes the word 'woman'.
Male Faces
There are vary levels of reality and abstraction present in the male face plaques. Some of the more abstract plaques hearken back more directly to other periods in Picasso's artistic career, such as Picasso ceramic "Cubist face, 1968-1969" shown below.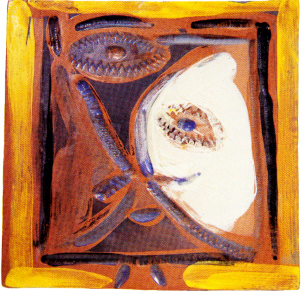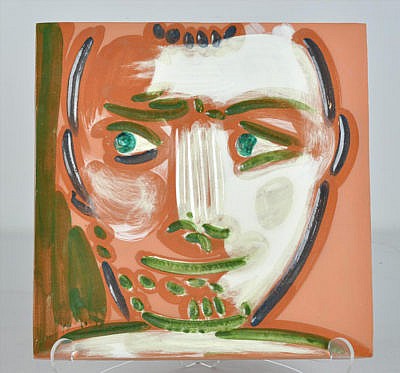 Figurative Scenes
Figurative scenes dominate the convex wall plaques, which with the exception of Picasso ceramic "Profil de Jacqueline, 1956" all portray more than one figure. Most have a group doing some sort of activity, such as dancing, trampolining, or enjoying a day at the beach. These plaques have softer, smoother edges which Picasso takes advantage of as he works with the figures to fill out the plaque. He rounds their simple bodies to work with the space.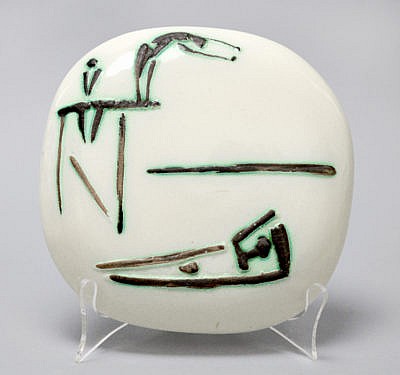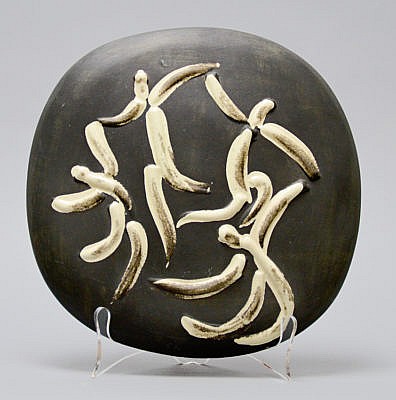 Mythology and Animals
Like the rest of Picasso's great oeuvre, his ceramics deal in themes of mythology and animals as well, though to a lesser extent as it seems he liked the medium of plaques more for a study of faces. There are some stunning examples of Picasso's artistic interest in myth and beasts.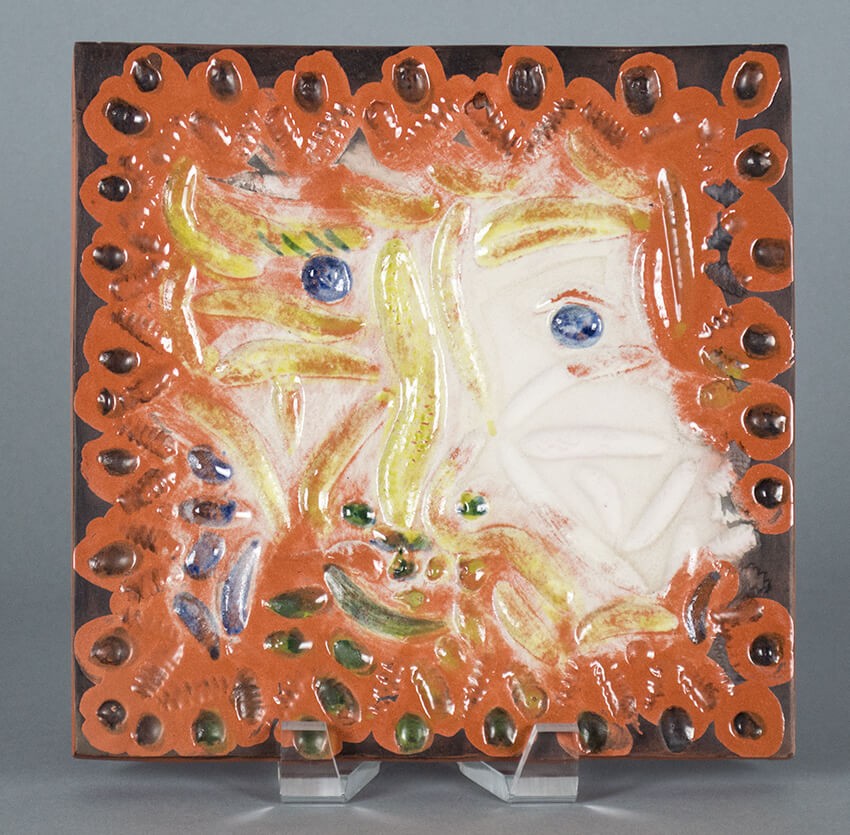 Linoleum Cut Plaster Cast Plaques
In 1964 Picasso created a series of tiles that were made from engravings on linoleum. The engraving on linoleum was cast in plaster, and the clay was impressed onto the plaster cast, creating a negative relief image. The original linoleum cuts were originally intended to be printed on paper. The resulting tiles are a wonderful combination of two mediums, and an exemplary display of the way that Picasso experimented with and pushed mediums to their boundaries.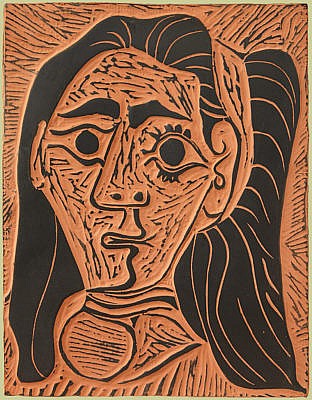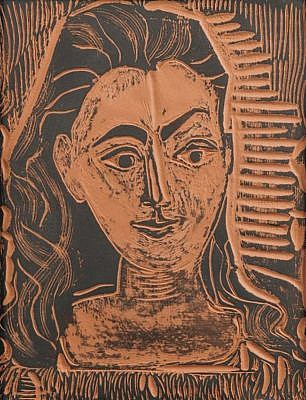 Picasso created amazing ceramic works on all shapes, but in particular his work on plaques is magnificent.
To learn more about collecting Picasso ceramics visit our guide and a short discussion on stamps and markings.
MORE ON PABLO PICASSO:
Check out our collection of Picasso Ceramics
Collecting Pablo Picasso Ceramic Oval Plates
Collecting Pablo Picasso Ceramic Plates
Collecting Pablo Picasso Ceramic Plaques
Pablo Picasso's Ceramic Plates: A Master of Form
Pablo Picasso in Vallauris, a Place for Invention: Linocuts, Ceramics and Love
Pablo Picasso Vollard Suite Etchings, A Closer Look at his iconic works
Pablo Picasso and his Woman, Picasso's artistic style thru the years
Georges Braque and Pablo Picasso
Henri Matisse and Pablo Picasso
Pablo Picasso's Blue Period (1901-1904)