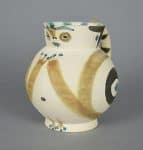 It is no secret that Picasso had a fondness for owls. They make appearances in every medium that the artist touched. Just as the artist surrounded himself with his most infamous inspiration, women, he did so with his feathered friends, even adopting a small injured owl that he kept in his studio.
A favorite theme of both Pablo Picasso and his collector's, the owl motif has recurred prominently throughout the artist's prolific oeuvre, but perhaps in no other medium is the spirit and whimsy better conveyed in the ceramic medium. Decorative yet expressive, Picasso's ceramic owls manifested in a variety of formats, ranging in shape, size, and coloration. With his playful approach, he embraced the innate qualities of the avian breed to transform simple vases, plates, tiles, and bowls, in zoological beings teeming with vivacity.
An approach Picasso often enacted in his creative endeavor was to transform the standard Suzanne Ramie vases that were easy for the artist to access. Simple flower vases were used as the template for many of his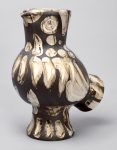 works. Knowing that the vase came first in his artistic process, one can imagine Picasso using the vases curves to guide his brushstrokes. Despite the minimal shape, these owls are adorned with gestural and painterly details animating each piece with its own personality and artistic interest.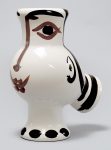 While he did sometimes decorate the vases and maintain the shape, Picasso also created his own shapes of ceramics. Throughout the 1960s he utilized a vase design that would become one of the most liked and iconic shapes seen in his work. The design deviates from the standard of a traditional vase in a number of ways. This turned vase tapers in at the top and base, creating an amusing appearance of a bulbous bellied owl. Protruding at a downward angle from the center of these works is a cylindrical structure, creating the impression of a fluffy feathered tail.
While Picasso's owls appear in many different variations, the artist's steadfast infatuation with the curious creatures reads throughout his work. With features as expressive and bold as his caricature-like drawings, the owl is undeniably a fitting muse. In the private world of Pablo Picasso, author David Douglas Duncan, indulges that perhaps Picasso's affection for the owls was mutual: "there was an aloof screech owl that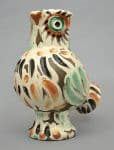 lived on an unused potter's wheel in the studio. Only burning stares greeted anyone other than Picasso. For him he clicked his beak in a cheery, brittle way and did a curtsying dance on his perch until the Maestro let him sit on his finger (Duncan 87)".
Symbols of wisdom, imagination, and mortality, Picasso's owls represent the artist's creative output, and his adoration is evident. The public too shares in this esteem for Picasso's beloved bird. Art and Antiques Magazine note the astonishingly high auction result from the Christie's London, "Madoura Collection Rakes in $12.5 Million at auction", during the sale a world record of $1.1 million for one ceramic. We forsee this incredible medium to continue its popular demand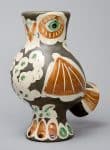 Please visit our Picasso ceramic collection and our collection of Pablo Picasso owls.
Works Cited:
Duncan, David Douglas. The private world of Pablo Picasso. [New York, N.Y.]: Harper & Bros., 1958.
McCully, Marilyn, and Eric Baudouin. Ceramics by Picasso. Paris: Images Modernes, 1999.
Picasso and ceramics. Quebec City: Museé National des Beaux-Arts du Québec, 2004.
"Picasso Ceramics: Madoura Collection Rakes in $12.5 Million at Auction." Art Antiques Magazine. Aug. 2012. Sheila Gibson Stoodley. 18 Jan. 2013 http://www.artandantiquesmag.com/2012/08/picasso-ceramics.