A Simple Guide to Pablo Picasso Ceramic Markings and Stamps
In 1946, Pablo Picasso first set foot into the Madoura Pottery studio, and later began a prolific partnership between himself and Georges and Suzanne Ramie, owners of the studio. He approached this ceramic medium with the same inventiveness and imagination he brought to his previous paintings and prints. This would result in the creation of more than 1,000 plates, vases and plaques etc. numbered from editions of 25 to editions of 500 and some unique pieces. Broadly speaking, Picasso ceramics were produced in two methods:
1st: Directly replicating the shape and decoration of an original ceramic piece as closely as possible.
2nd: Engraving the original image into a dry mould which was then transferred to the new clay.
Each piece is certified and authenticated by the markings on the underside or the inside of any Picasso ceramic (also referred to as Picasso Madoura ceramics and Picasso pottery). The most common stamps and inscriptions read Madoura Plein Feu, Edition Picasso, Empreinte Originale de Picasso and Poinçon Original de Picasso. All of which indicate an authentic and limited edition.
Madoura Plein Feu
All Picasso ceramic works from the Madoura studio are engraved with the Madoura Plein Feu stamp. The stamp is a sign of authenticity and all works recognized by the studio are documented by Alain Ramié in the Picasso Catalogue of the Edited Ceramic Works 1947-1971.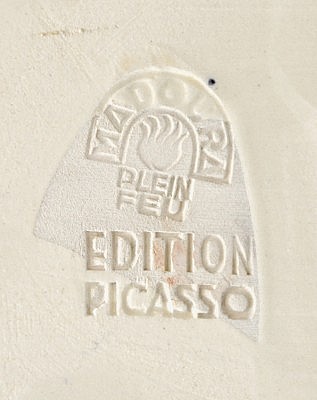 Empreinte Originale de Picasso
Empreinte Originale de Picasso literally translates into "original print of Picasso". This stamp appears on many of the Picasso ceramic pieces and signifies that Picasso created the work by transferring the original image onto new clay. This is the second method of creation from the aforementioned list.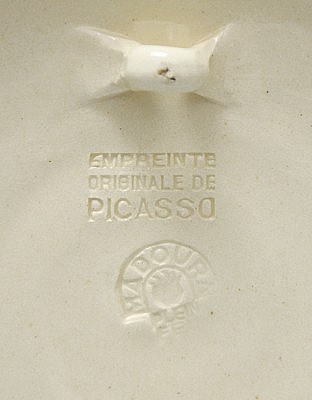 Poinçon Original de Picasso
Picasso's later ceramics (A.R. 613-633) will bear the Poinçon original de Picasso stamp. The Poinçon is made by stamping an original Picasso linoleum cut into the clay or terracotta. The last edition in this category was made in 1971.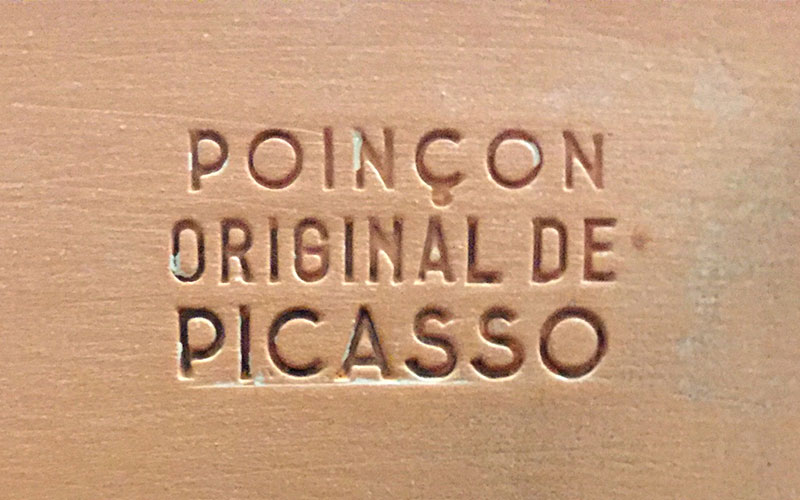 Picasso Ceramic Marking/Stamp - Edition Numbers
Edition numbers oftentimes accompany the stamps. As a general rule, a smaller edition, such as an edition of 25, will be more valuable than larger editions, such as an edition of 500. Moreover, the number within an edition indicates the relative age of a ceramic. Specifically, a work numbered 1/25 was created much earlier than a work numbered 25/25. Although the earlier edition numbers are considered more valuable, they are also more likely to be damaged due to aging.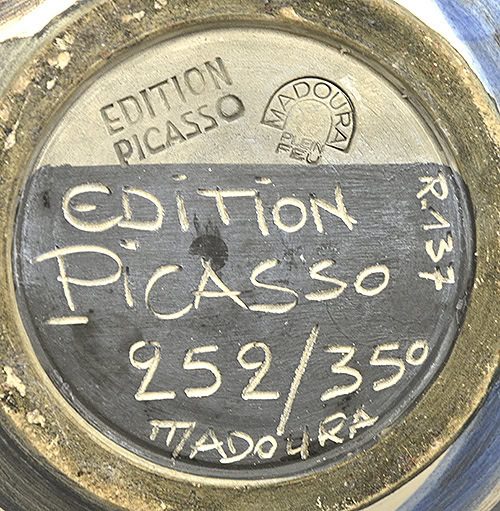 Knowing and understanding the meaning of Picasso Ceramics markings and stamps is essential to the process of purchasing a Picasso ceramic.