Andy Warhol's Cowboys and Indians Portfolio, 1986, is one of the artists most comprehensive and important series. Comprising of 10 works + 4 additional, Andy made this one of his most sought after and iconic portfolios.
One of the most prolific artists in modern art history, is famous for his iconic colorful prints of popular imagery ranging from Campbell's Soup cans to Mick Jagger. His oeuvre is composed of numerous series, including one entitled Andy Warhol Cowboys and Indians from 1968. This portfolio is composed of imagery revolving around the contrived modern representations of the American Frontier. This series is composed of ten color screen prints on Lenox Museum board, each an edition of 250. It further explores Warhol's fascination with American iconography by using depictions of Sitting Bull, Annie Oakley, John Wayne, and General Custer, to name just a few.
Hollywood portrayals of the American Frontier first became popular in the 1930s; Warhol was born in 1928, so it is to be expected that imagery of the Wild West was a prevalent theme in his childhood. Western films continued to be the most popular Hollywood genre through the 1960s, meaning that several decades of the artist's early life were saturated with popular imagery of dramatizations of bar fights, ghost towns, and wars between cowboys and Native Americans. This influence would prove to become an obsession for Warhol. His archives contain hundreds of film title cards from his youth, autographs from Western stars like Roy Rogers, as well as 27 pairs of cowboy boots. Though the "Andy Warhol Cowboys and Indians" series did not surface until 1986, Warhol's fascination with the American West can be seen in his work as early as 1963. His silkscreen painting Elvis 11 Times [Studio Type] from 1963 features a still of the country singer from his role in the 1960 Western film Flaming Star, an image he would repeat in 36 paintings.
The framework of Warhol's practice is based on observation of mass production and the culture that it cultivates. Western films of the 1960s prove to be somewhat problematic in terms of social consciousness, though their popularity is indisputable. It may be speculated that the Warhol's Cowboys and Indians series is sociopolitical in nature; however, the artist himself claims the work is completely apolitical in nature. He once famously noted ", If you want to know all about Andy Warhol, just look at the surface of my paintings and films and me, and there I am. There's nothing behind it." Nevertheless, many view the work as commentary on the Wild West, a staple interval in American history, which reminds the viewer of the veracious narrative of the American Frontier, particularly the violence against the Native American population in.
Poetically enough, Andy Warhol Cowboys and Indians is the last portfolio the artist produced before his death in 1987. It seems serendipitous that one of the earliest influences in his life would materialize so near its close. This body of work is often overlooked by the public and critics behind the shroud of Marilyn Monroe's and Campbell's Soup cans, though its beauty and significance should not be discounted; the pieces in this series are some of the most visually stunning and fascinating works of pop art.
Andy Warhol Cowboys and Indians Screenprint, Plains Indian Shield , 1986
Shields used by Native Americans for battle are typically decorated with symbols which would empower the wearer. Warhol's version is rendered in a definitively Pop manner to reinforce their arrogation.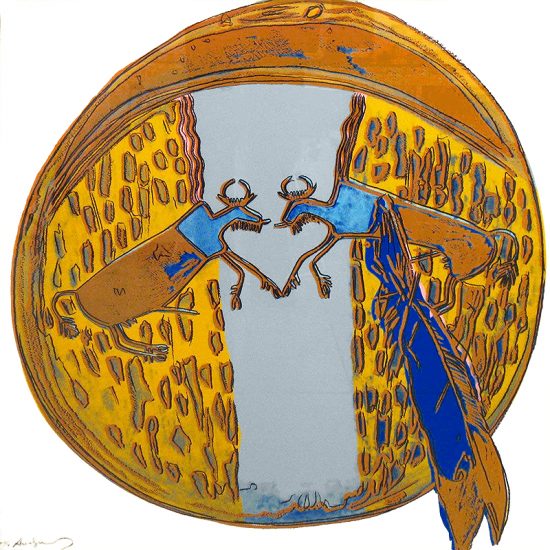 Andy Warhol Cowboys and Indians Screenprint, Mother and Child, 1986
Warhol transforms a documentary photograph of a Native American woman and child into a psychedelic image with layers of bright color. The subject of this work is intertwined with Western mythologies and stereotypes about Native Americans.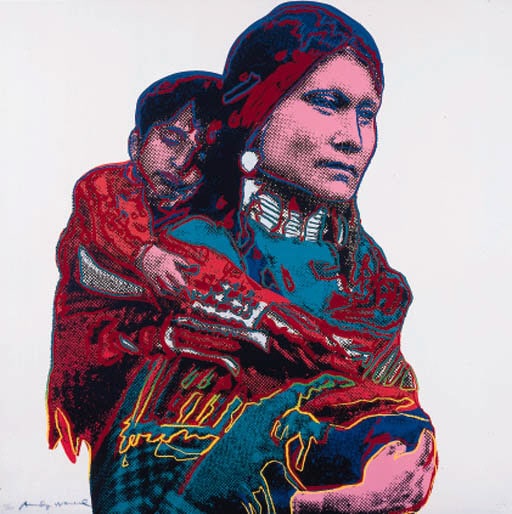 Andy Warhol Cowboys and Indians Screenprint, Geronimo, 1986
Geronimo became a prominent leader of the Apache tribe as he fought against U.S. and Mexican military forces from 1850 to 1886. When he finally surrendered to U.S. troops in 1886, he was made a prisoner of war until his death in 1909. Warhol's image of him sparks conversation about the way the U.S. capitalized on Geronimo's fame for American glory.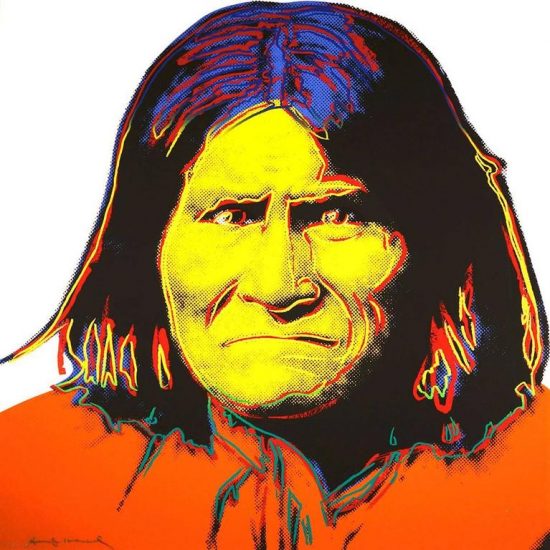 Andy Warhol Cowboys and Indians Screenprint, Indian Head Nickel, 1986
The Indian Head Nickel, also known as the Buffalo Nickel, is a copper five-cent coin designed by James Earle Fraser. The design, appropriated from Native American imagery, was approved in 1912. Warhol's reproduction reflects on the nature of appropriation in popular culture.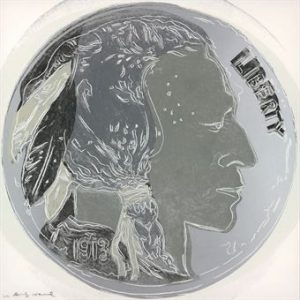 Andy Warhol Cowboys and Indians Screenprint, Teddy Roosevelt, 1986
Theodore Roosevelt Jr. was the 26th president of the United States who served from 1901 to 1909, though he was also well known for his "cowboyish" persona. He often sported a buckskin shirt which he believed was the epitome of western attire.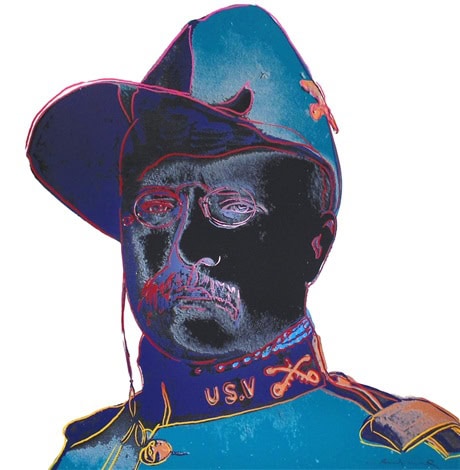 Andy Warhol Cowboys and Indians Screenprint, John Wayne, 1986
This work renders John Wayne, famous for his roles in Western films such as True Grit and El Dorado, in a decidedly Pop manner. The image pays homage to the American West while maintaining consistency with Warhol's commentary on mass media.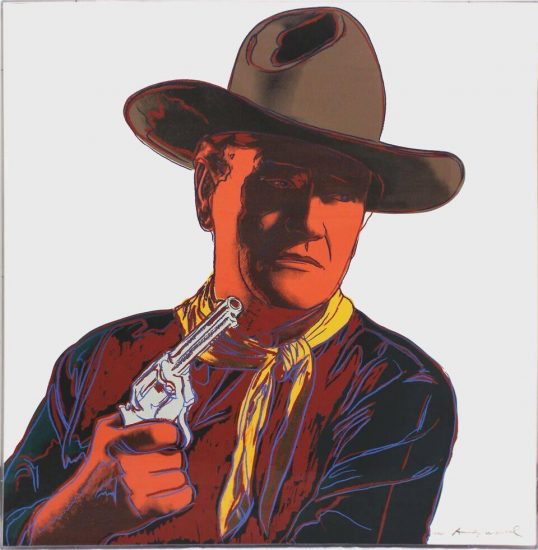 Andy Warhol Cowboys and Indians Screenprint, Annie Oakley, 1986
Annie Oakley was an American sharpshooter who worked with Buffalo Bill, a well-known bison hunter. The violence against a sacred symbol of Native American culture is perpetuated through Warhol's image of Oakley.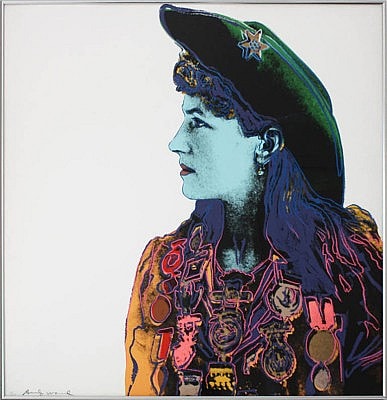 Andy Warhol Cowboys and Indians Screenprint, General Custer, 1986
General Custer was a United States Army officer and cavalry commander in the American Civil War and the American Indian Wars. He is a historic symbol and icon of the Western Frontier.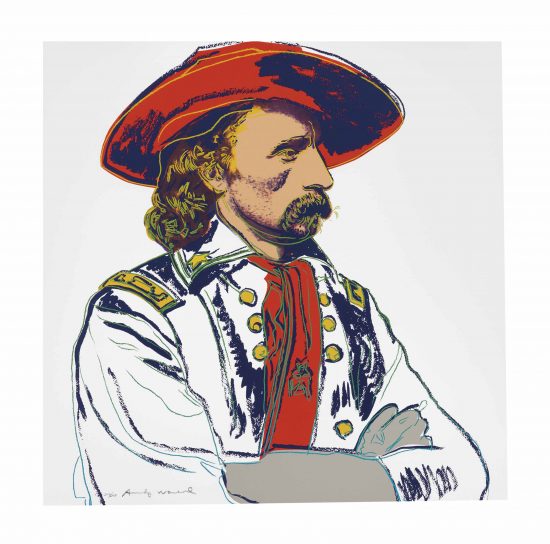 Andy Warhol Cowboys and Indians Screenprint, Northwest Coast Mask, 1986
The Cowboys and Indians series involves placing tropes of Native American imagery alongside portraits of American Western 'heroes' such as Annie Oakley and John Wayne. By doing so, Warhol challenges popular ideas about the American West.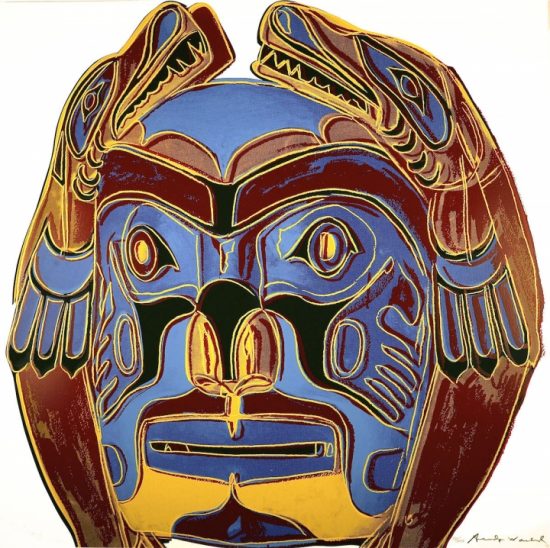 Andy Warhol Cowboys and Indians Screenprint, Kachina Dolls, 1986
The Kachina is a spirit the Hopi people believe to control various natural elements;Kachina dolls are physical representations of of these spirits traditionally made from roots of cottonwood trees which were common near Hopi territories. Warhol's rendition echoes the insensitive popularization of these figures.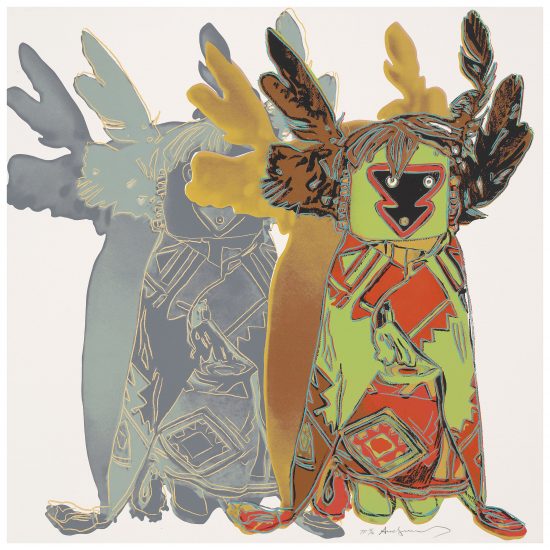 Andy Warhol Cowboys and Indians Portfolio: 4 Additional Works Andy created for the Warhol Cowboys and Indians, 1986
These four additional works separate from the portfolio of 10 screenprints in the Cowboys and Indians Series of 1986. These are unique trial proofs from a limited edition of 36. Each work is unique in color combination.
Andy Warhol Cowboys and Indians screenprint, Buffalo Nickel, 1986
The Buffalo is an animal which some Native American peoples once thrived on; with colonization came over-hunting and the near extinction of these animals. In creating a work of an image of this creature on a nickel, Warhol comments on the violence against Native American people.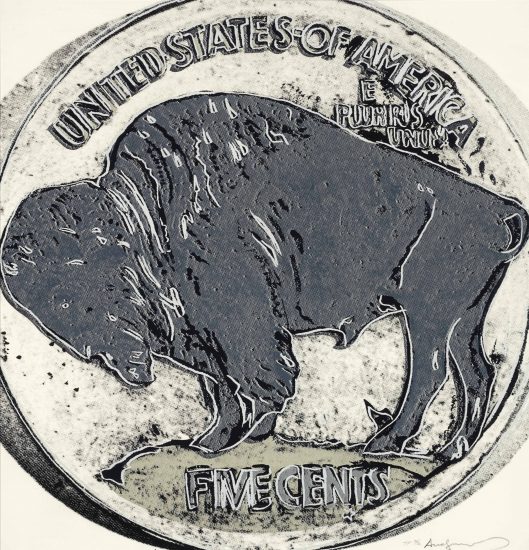 Andy Warhol Cowboys and Indians screenprint, Action Picture, 1986
This work is modeled after a scene one might come across in a standard Western film. The figures in this image appear to be cowboys and Native Americans in a struggle; the artist's imagery reflects on the xenophobic imagery consistent with representations of the American Frontier.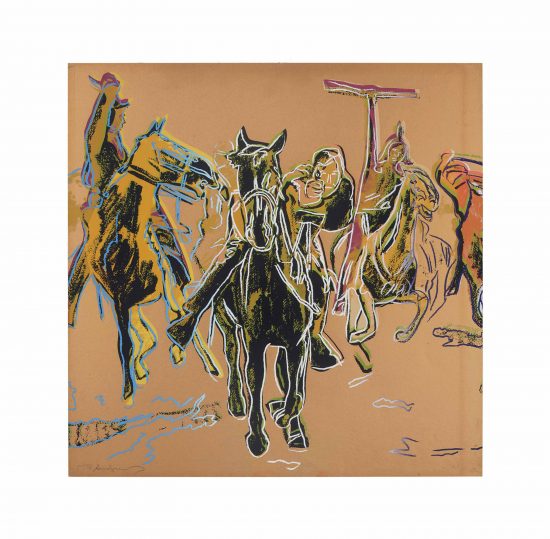 Andy Warhol Cowboys and Indians screenprint, War Bonnet Indian, 1986
Cowboys and Indians is a historical interpretation of the American West. In this work, Warhol examines the reduction of Native American culture to a feathered headdress and stoic presence by popular culture.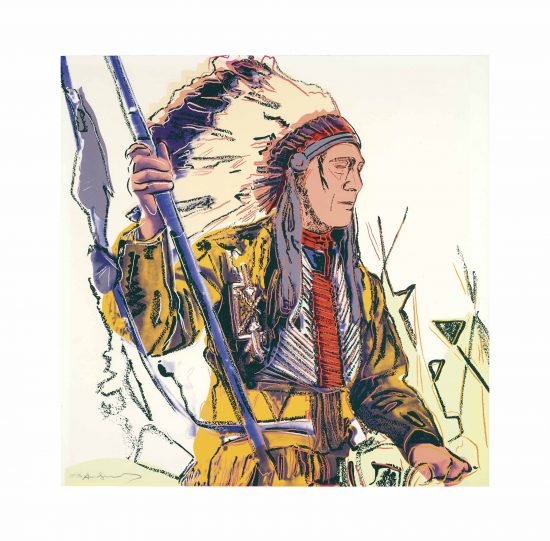 Andy Warhol Cowboys and Indians screenprint, Sitting Bull, 1986
This work is based on an archival photo of Sitting Bull, a Sioux chief, and reflects on the cruelty against Native Americans. As proof of the success of their occupation,Europeans who colonized North America photographed Native Americans in spite of their cultural beliefs.