Pablo Picasso's Vollard Suite represents a major landmark in Picasso's extensive and prosperous career as a printmaker. Comprised of 100 etchings created in the neoclassical style, the Vollard Suite offers us a rare glimpse into Picasso's brilliant artistic psyche.  Named after its publisher, renowned art dealer and critic Ambroise Vollard, the Vollard Suite etchings remains Picasso's most celebrated graphic series to date.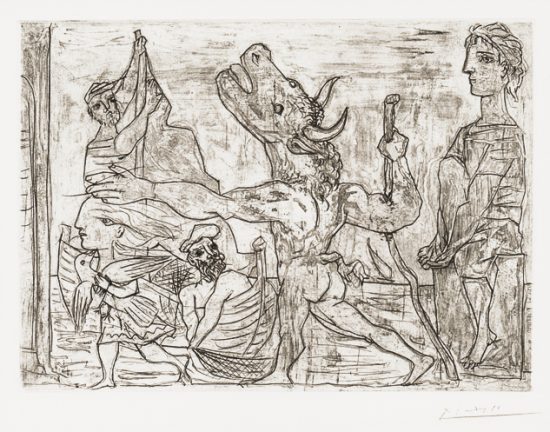 Picasso's work on the Vollard Suite spans a seven-year period, from 1930-1937. However, it was not until 1934, when Picasso asked to buy a Renoir and Cezanne from Vollard's private collection, that a deal was struck between the two men – Picasso would create a series of 100 etchings and hand over the publishing rights to Vollard in exchange for the Renoir and Cezanne paintings. As Vollard had already published Picasso's first etched series The Saltimbanques (Bloch 1-15) in 1914-1915 to great acclaim, he was eager to collaborate with Picasso on another series of Picasso etchings.
Picasso created 97 etchings from 1930-1936 and added three additional etched portraits of Ambroise Vollard to complete the Vollard Suite in 1937. The Picasso Vollard Suite edition was printed on Montval paper made with a specially designed 'Vollard' signature watermark. The complete edition was comprised of 300 sets, of which 250 sets were on smaller format paper (approximately 13 3/8 in x 17 ½ in) and 50 sets were on larger format paper (approximately 15 ¼ in x 19 ¾ in). In addition, 3 sets were created on vellum and an additional set of printer's proofs was gifted to Picasso's master printer and close friend Roger Lacouriere. Picasso signed all of the etchings within the Vollard Suite in the plate so that each work within the series bears the printed signature of Picasso.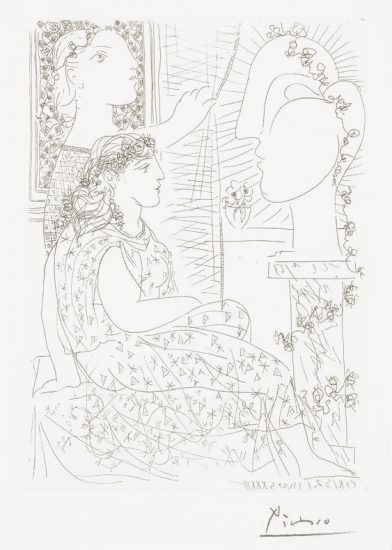 In 1939, the same year that the Picasso Vollard Suite was printed, Vollard met an untimely death in a tragic car accident. This tragedy, combined with the onset of World War II, greatly delayed the distribution of these Picasso etchings. At some point between 1942-1945, Henri Petiet, another renowned art dealer, purchased Picasso's Vollard Suite etchings for 10,000 francs. In the 1950s, Petiet asked Picasso to hand sign these works. Picasso, who felt that his side of his bargain with Vollard had already been upheld, was reluctant to hand sign the prints and asked for additional compensation. He signed the Vollard Suite etchings sporadically from the 1950s-60s in a haphazard and disorganized fashion, resulting in a significant number of impressions that were left unsigned.
Petiet proceeded to sell the works from the Vollard Suite. While some works were sold as entire sets, the majority of the Picasso Vollard Suite etchings were sold individually, making complete sets of the Vollard Suite extremely rare and valuable in today's market.
Stylistically, the majority of the images within the Picasso Vollard Suite reflect the neoclassical phase of Picasso's work, which was greatly influenced by his travels to Rome, Florence, Naples and Pompeii. Thematically, the Vollard Suite contains several interwoven themes, such as the sculptor in his studio and the Minotaur.
The predominant theme in the Picasso Vollard Suite is the sculptor in his studio, a theme that has biographical implications for Picasso. He explores this theme in 46 etchings, nearly half of the works within the suite. In 1931, Picasso purchased a sculpture workshop in the Chateau du Boisgeloup, around 50 miles outside of Paris. Many of his Vollard Suite works were inspired by sculptures that he created in this workshop in the French countryside. These Picasso etchings address this theme depict the artist as a classical hero, bearded and nude with an ivy crown upon his head. A beautiful model and muse who bears a great similarity to Picasso's lover Marie-Therese Walter often accompanies him within these works. The intimate model, or the model asleep, was a common motif at the time of Picasso's relationship with Marie-Thérèse Walter. From 1927-1937, Picasso payed homage to his beautiful, young mistress in a range of artistic works. With her oval face, Roman nose, and short, cropped hair, her likeness is apparent in the female figures within the Vollard Suite. Multiple etchings within this suite convey the sculptor and his model lounging together in the sculptor's studio, peacefully contemplating the sculptor's work.
In addition to his depictions of the sculptor in his studio, Picasso created a range of works for the Vollard Suite that address the theme of the Minotaur, a mythological creature that is half man, half bull. Like the sculptor in his studio, the theme of the Minotaur also has biographical undertones, serving as an artistic alter ego for the great artist. Throughout the series, the Minotaur transforms from a kind and gentle lover to a rapist and devourer of women, perhaps reflecting Picasso's turbulent relationships with his lover Marie-Therese Walter and his wife at the time Olga Khokhlova.
The gradually decline of the Minotaur is apparent in striking works such as Wounded Minotaur VI, in which the Minotaur falls to his knees before a crowd of indifferent onlookers. As the series progresses, the Minotaur undergoes a third transformation- he becomes blind and impotent, wandering the night led by a little girl with features similar to that of Marie-Therese. Stunning works such as Blind Minotaur Guided by a Girl Through the Night highlight this powerful imagery. Suggestive of tragedy and suffering, these concluding works were perhaps influenced by the increasingly dark political situation in Europe during the 1930s as well as by Picasso's own fear of blindness.
Pablo Picasso's Vollard Suite is a remarkable achievement in the graphic arts that offers great insight into Picasso's turbulent and passionate personal life. As Michael Taylor, director of the Hood Museum of Art at Dartmouth College states, "The Vollard Suite functions as a visual diary of the artist's creative thinking and preoccupations during a pivotal moment in his career. These works illustrate the two worlds to which Picasso owed allegiance at this time, namely the harmony and order of classical art and the surrealist world of dreams and the imagination" (Dartmouth College, 2013).
Reference:
 http://now.dartmouth.edu/2013/08/hood-museum-of-art-presents-picasso-the-vollard-suite/
Bloch, Georges. Pablo Picasso, Tome I Catalogue de l'oeuvre grave et lithographie 1904-1067. Edition Kornfeld: Berne, 1984.
Bolliger, Hans. Picasso's Vollard Suite. Harry Abrams Publishers: New York, 1977.