A delightful and significant surprise was discovered in 2000, when a conservator uncovered a previously unknown painting on the backside of the canvas of Picasso Blue Period work La Gommeuse, 1901. The painting was of Pablo Picasso's friend and then art dealer, Pere Mañach. Mañach is depicted wearing a red and yellow turban with his body contorted into a position evocative of the sexual positions in the Kama Sutra. Mañach is urinating onto the landscape dotted with flowers. The image is inscribed "Recuerdo a Mañach en el día de su santo", detailing that the painting was given to Mañach to celebrate his Saint's Day on June 29th. Another, more official, portrait of Pere Mañach was completed in 1901 and hangs in the National Gallery of Art in Washington, DC.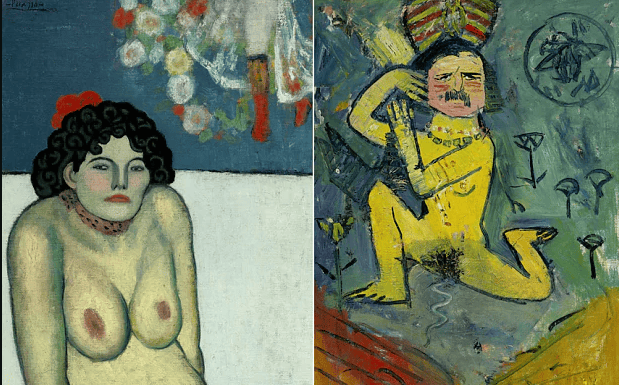 From here, there are a few narratives to explain how the painting ended up in the hands of Ambroise Vollard, Picasso's art dealer, in 1906. Some scholars suggest that both paintings, La Gommeuse, 1901 and its reverse were given as a present to Mañach, who was insulted by his portrait and gave the painting away after some time. This takes into consideration the scholarship that details the Picasso Mañach friendship as full of difficulty, particularly during that time when Picasso was supposedly unhappy with some of Mañach's business dealings. The other narrative supposes that the portrait of Mañach was given and then had to be reclaimed by Picasso so that he could use the other side of the expensive canvas for La Gommeuse, 1901. This story tells of the difficulty of being a young artist struggling financially in Paris in the early 20th century.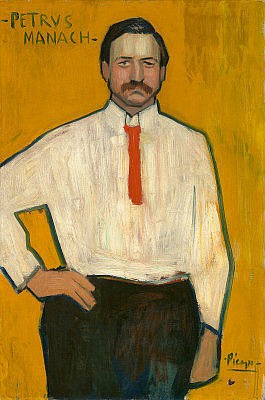 Both sides of the painting are special and significant. La Gommeuse, 1901 is an exemplary Picasso Blue Period piece, combining the coloration of the period with the intimate subject matter of Parisian demi-monde performers. The woman, with rounded shoulders, stands naked against the wall of Picasso's studio where another painting hangs. Gommeuse is a French word with sexual connotations used to describe café singers and performers.
The painting was sold at Sotheby's Auction House in 2015 for $67.5 million.
References:
Brown, Mark. "Blue period Picasso – with a little secret – goes under the hammer," The Guardian. October 9, 2015. https://www.theguardian.com/artanddesign/2015/oct/09/picasso-la-gommeuse-blue-period-auction
Ghorashi, Hannah. "Sotheby's Announces Sale of Rare Double-Sided Picasso, Monet Masterpiece," ArtNews. October 9, 2015. http://www.artnews.com/2015/10/09/sothebys-announces-sale-of-rare-double-sided-picasso-monet-masterpiece/
Pogrebin, Robin. "Warmer Response at Sotheby's 2nd Night of Auctions," The New York Times. November 6, 2015. https://www.nytimes.com/2015/11/06/arts/design/warmer-response-at-sothebys-2nd-night-of-auctions.html?_r=0
Singh, Anita. "The US  billionaire who got two Picassos for the price of one," The Telegraph. October 9, 2015. http://www.telegraph.co.uk/culture/art/artsales/11922971/The-US-billionaire-who-got-two-Picassos-for-the-price-of-one.html