Examining Still Life art from Pablo Picasso, Georges Braque, and Roy Lichtenstein
A traditional still life artwork can be composed of fruits, flowers, various glass-wears, and other table-top objects included in dining. They encompass the bountiful harvests of that year's crops, or show the wealth of the patron by showcasing their most prized China or crystal wears. Others take a darker route, including dead flies, animals, or rot. Still life paintings generally allude to an underlying message within the scene, signifying wealth, time death, or another hidden theme. Each artist contributes their own unique style and color scheme to their own still life style pieces to immortalize their work.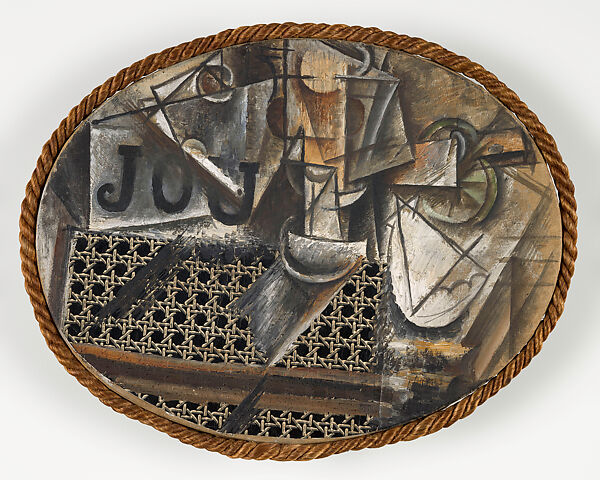 Pablo Picasso reached into the Cubism movement earlier on in his career and created Still Life with the Caned Chair, which is not as easily dissected as his later work Nature Morte au Crane. The scene looks as though it is going through a time warp full of illusions despite being called a "still life" painting. The strokes of the scene move the eye in a circular fashion around the rim of the rope which encases the work. The meticulous and detailed pattern of the wicker-esque chair is highly contrasted with the hurried diagonal lines above. Although at first it can be difficult to decipher the painting, upon closer inspection you can see the knife handle on the top right corner, coupled with sliced citrus. Going further around, the glass can be unobstructed if viewed from multiple angles instead of a stationary item. All of these subtleties in Still Life with the Caned Chair are part of Cubism art ideals attempting to make everything both squared away and lost in confusion simultaneously. When being analyzed closely, one can see everything in the tableau quite clearly.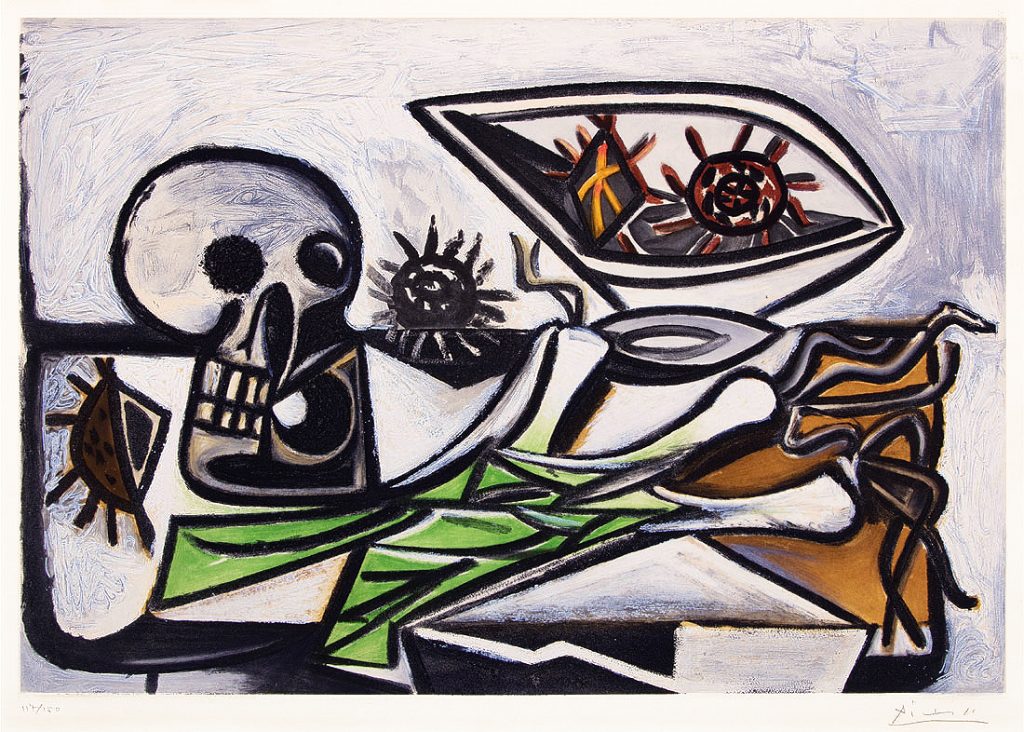 The skull, a focal point, serves as the memento mori-- a reminder of death.
Picasso's Nature morte au crane has many colors jutting throughout the scene in this still life from his later career. What we see as green onions navigate the eye diagonally through the scene, and end at what appear to be sea urchin-like objects. The skull, a focal point, serves as the memento mori-- a reminder of death. This still life allows the viewer to see the contrast of the bold greens and rusty ranges with the threat of the skull hanging in the balance. Bold outlines are in contrast with the softness of the background grays which show a comforting, pillowing effect. The angularity of the vegetables and upper right corner of the painting are almost unrecognizable, but still very curious in their existence.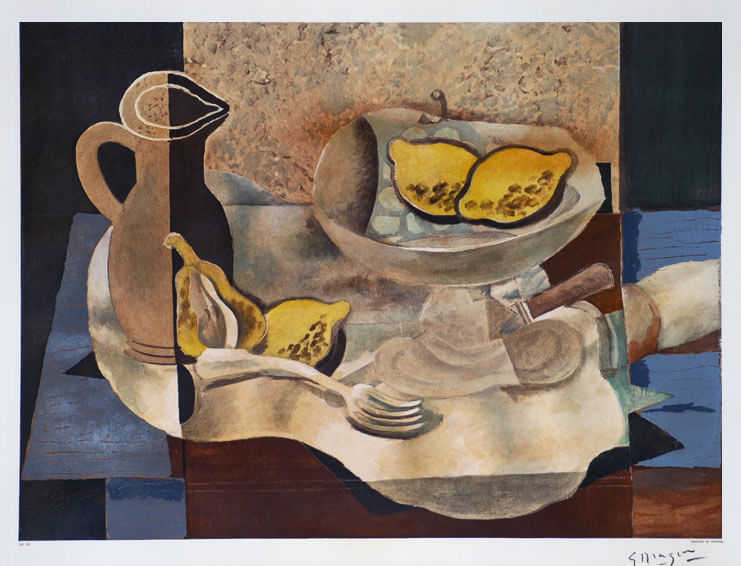 Here, in Nature morte (avec un pichet et citrons), Georges Braque creates a scene in which the fruit looks almost rotten. He uses the same sort of Cubism analytical approach that Picasso does, just in a slightly more subtle way. We can see that the color scheme is more brown and neutral while the lemons pop with their primary color, but the deepness of the brown spots challenges the eye to look at them as forgotten rather than forbidden fruits. The lack of lushness in the scene is apparent. The colors here are not quite as crisp or bold as Picasso's Nature Morte au Crane, but equally as interesting to look at. All of the ninety-degree angles contribute to Cubism likeness, buffering in a few rounded edges and curves in the fruits. Collaging everything together is a stylistic choice that Barque does significantly well in this painting, and others.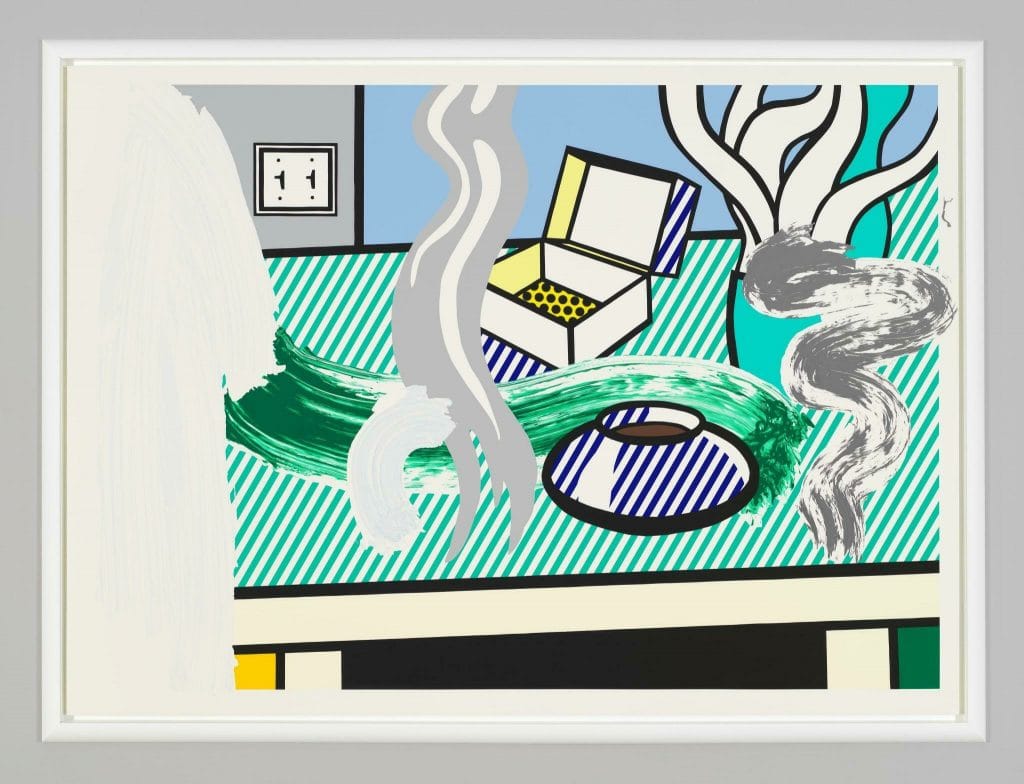 Roy Lichtenstein has developed a scene sans fruit, but with much panache. The bold cartoon lines are stylized to create the sense of an other-dimensional space. Bold lines clash with the wispy, billowy grays on the right and middle of the scene. We are shown a countertop with a box, and a cup of some hot beverage. The blue and yellow of the box upon the countertop indicate shadow and light, and the textures within contribute even more nuance within those shadows. There is much more crisp neatness to his unique cartoon style which sets Lichtenstein apart from other artists who have painted still life art. This still life has its own sense of balanced scenery not seen in others. Lichtenstein truly produces a unique take on still life whilst continuing to harmoniously intertwine every line and curve of his work.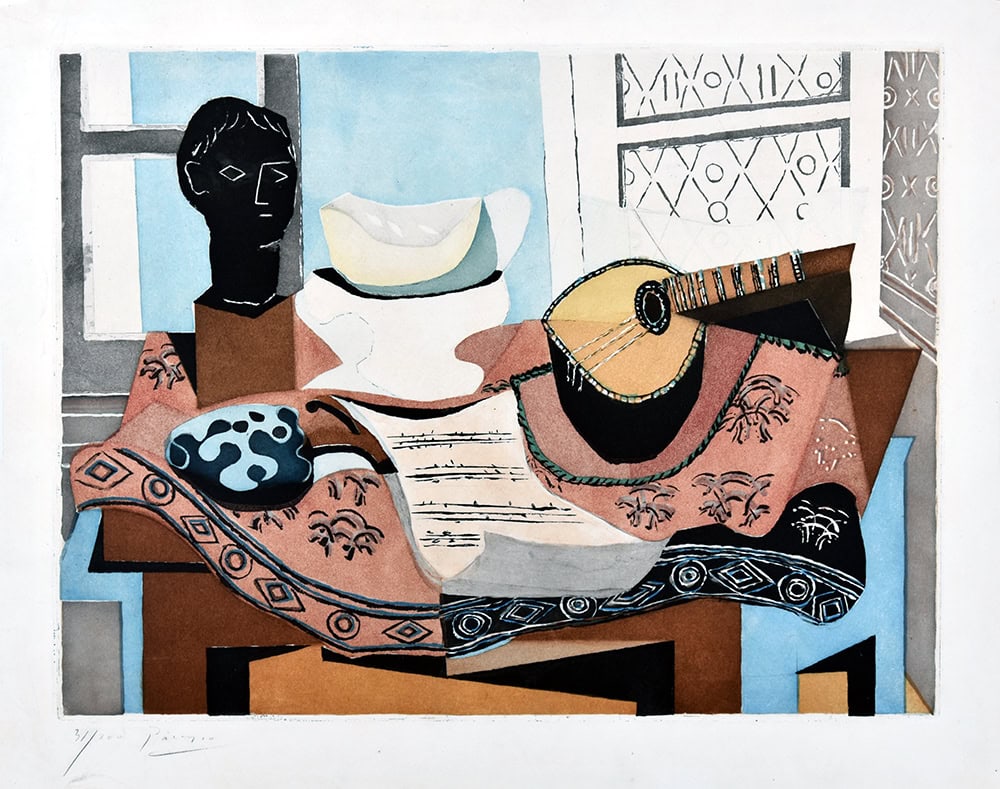 Picasso returns to a more traditional, less cubism-oriented scene here, where there lay a guitar with a music sheet, bust, and a french quilt. Here, he delicately draws patterns and shapes scene in a quaint French home, one seemingly filled with music. The colors are bolder, brighter than previous Cubism oriented still life paintings of his, and this style reflects the times. Where the shadow and light hit the table he smartly uses a sky blue to bring cohesion and harmony to tie in the open window. Although this painting dates in the middle of the others, Pablo Picasso's style is quite a bit more comforting here, primarily in his use of whimsical items
Still life paintings, it seems, evolve with the perception of the artist. We see Picasso has differentiated in styles multiple times throughout his lengthy career, from cubism to geometric shapes. As we compare his works to those of other artists, the actual scope of the idea of a still life painting comes into focus when considering all movements involved.
Citations:
Corlett, Mary Lee. The Prints of Roy Lichtenstein: A Catalogue Raisonné 1948-1997. New York: Hudson Hills Press, 2002. Listed and illustrated as catalogue raisonne no. 308a.
Ginestet, C. & Pouillon, C. Jacques Villon: Les Estampes et Les Illustrations. Arts et Métiers Graphiques: Paris. Listed and illustrated as catalogue raisonné no. E652
Spitzer, Guy. Guy Spitzer, Éditeur d'Art. Illustrated and detailed on pg. 14.
Enjoy our fine art collection of Henri Matisse Still Life.