The Abstract Expressionist artist Sam Francis was working and living in Paris when he created the Basel Mural at the request of Arnold Rüdlinger, the then-director of the Kunsthalle Basel. Completed between 1956-58, Basel Mural was an expansive and impactful triptych. A single panel spanned almost 20 feet and was almost 13 feet tall. Inspired by Monet's monumental lily pad paintings, Francis aimed to create a work that could be equally immersive. The complete work was mesmerizing, exploding with bright blues, deep oranges, and stunning yellows. Thin, transparent layers of oil paint and loose composition are hallmarks of Francis's distinctly painterly style, and the Basel murals are a phenomenal representation of Francis's specific form of action painting on a large scale and wonderful aptitude for color.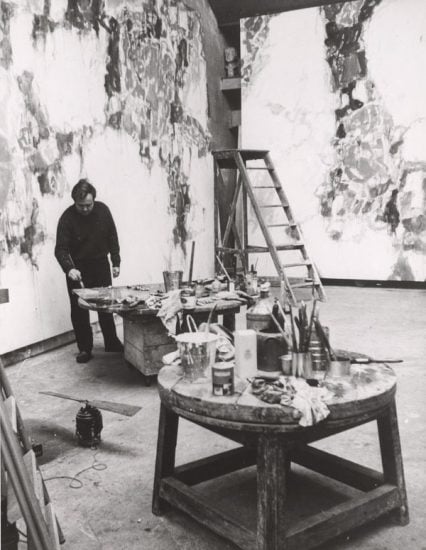 The Basel triptych lived in the Kunsthalle Basel's stairwell between 1958 and 1964. When the Swiss institution did not purchase the work after its six year tenure, the three panels were separated. The central panel, Basel Mural II, went to Amsterdam's Stedelijk Museum,where it still resides today, and the two flanking panels would head to the United States. 
Unfortunately, only one of the Basel murals survived its journey. Though it is uncertain exactly how, the two panels that made their way to the United States suffered extensive water damage either while in transit or in storage. Francis was able to repair Basel I, which he then donated to the Pasadena Art Museum (now the Norton Simon Museum). Basel III, on the other hand, was beyond repair. To salvage the work, Francis cut out the damaged sections of canvas and restretched the remaining pieces into four separate, smaller paintings, each of them representative of a particular moment within the larger work. Two of these newly created panels would be gifted to Betty Freeman, who pushed for Francis to salvage Basel III, and the other would remain in the artist's possession.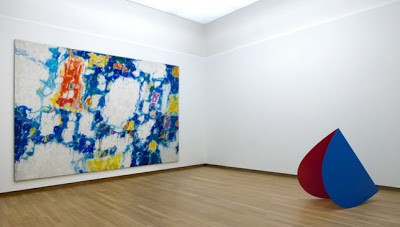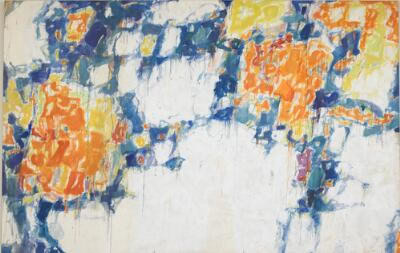 Upon Francis's death in 1994, the works were donated to institutions that would preserve the influential artist's legacy. In 2009, the Sam Francis estate donated the remaining two panels of Basel III to the Norton Simon Museum where it joined Basel I, which Francis himself donated decades ago. Though the triptych will never be complete again, the reunion of Basel I and the remaining portions of Basel III at the Norton Simon was a long awaited moment. All three works now hang together and stand as a triumphant partial reinstallment of the original work and testament to the artist's initial vision for the set of paintings.