The artist Brian Donnelly, professionally known as the artist KAWS, is a New York artist through and through. He grew up in Jersey City, attended the School of Visual Arts in Manhattan, and is currently working out of his Williamsburg studio in Brooklyn. The Brooklyn Museum was the first New York museum to acquire his work in 2015—a pair of large wooden sculptures titled Along the Way, housed in the museum's lobby. Thus, the choice to host KAWS: WHAT PARTY, a survey exhibition of the artist's prolific and expanding oeuvre, at the Brooklyn Museum feels like a sort-of homecoming. With 167 objects on display, KAWS: WHAT PARTY covers the entirety of the artist's 25 year career up until this point, from his beginnings in street art to his now iconic toy-making and giant figure installations. It is a must-see exhibition for KAWS fans, of course, but is truly an experience for anyone with an eye for pop culture.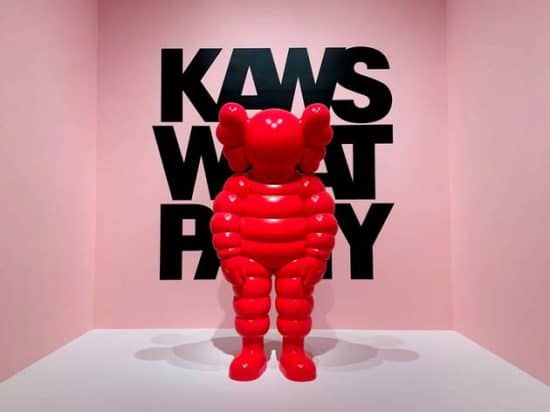 KAWS' willingness to collaborate with brands and the great success of his product designs have had a divisive impact on the art world; some like that his work is accessible and adaptable, while others worry that his work is too flashy and ephemeral. This survey is a rebuttal to that latter opinion. The exhibition organizes Donnelly's work chronologically, letting all of the elements of Donnelly's story play out in succession. More than anything else, it reveals the artist's penchant for engaging with the public. The exhibition starts off with some of his early graffiti, including sketches in notebooks and enhanced advertising posters found on the street, and makes space for all the ways that Donnelly channeled that interest from those initial moments on.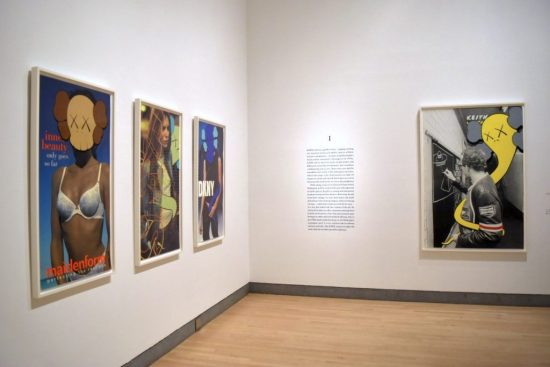 The work that KAWS has become known for—his altered cartoon characters and every incarnation of his signature, skull-headed COMPANION figures make appearances, of course. The COMPANION figures, which have been installed in public locations all around the world, take over the Brooklyn Museum, ranging in size from toy figurines to life-size to giant, and in every pose imaginable, communicating emotions as varied as hope, despair, alienation, happiness, and strength. The exhibition also thrives in the moments when it shines a light on the work that has flown under the radar. Including his lesser-known abstract paintings and short film work, and even an augmented reality component accessible to visitors via their phones, the full range of Donnelly's abilities is shown.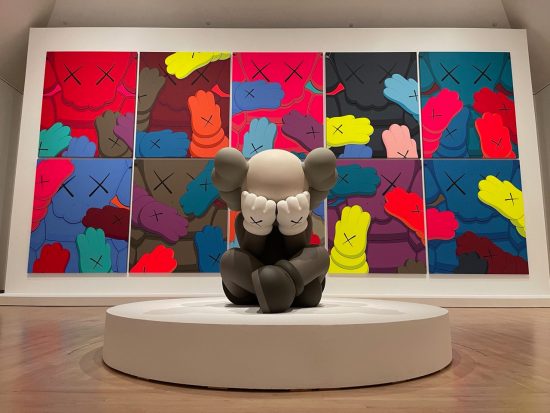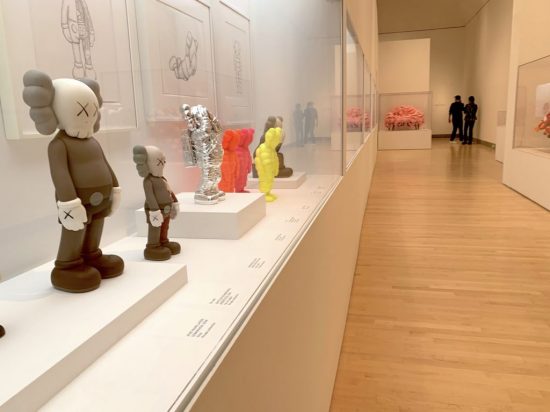 KAWS: WHAT PARTY makes it clear that Donnelly takes his art incredibly seriously, and that he always has. Over 100 of works are on display, and with them, so is the breadth and integrity of his practice. By mixing the high and the low, references to popular culture and to canonical artists, the heaviness of recurring themes of despair, loneliness, and death with playful and colorful renditions of familiar forms, he creates a body of work that is entirely original and remarkable. Having been open for just over a month, the exhibit and its associated merchandise have already proven popular—a range of small vinyl COMPANION figures, plates, and signed exhibition catalogues sold out within weeks, and tickets are already sold out to the end of March. KAWS: WHAT PARTY is jaw-dropping and an eye-opening peek at what makes Brian Donnelly KAWS, and is an exceptional presentation of one of contemporary art's most exciting artists.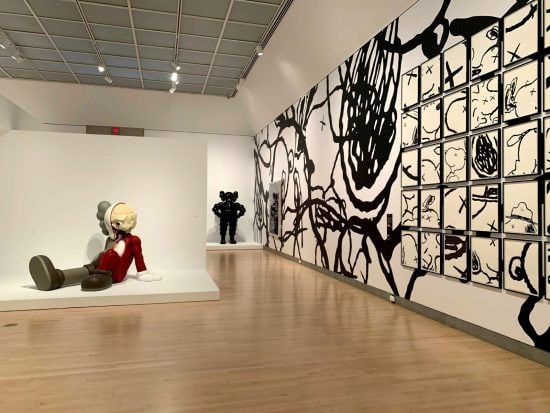 Enjoy our collection of KAWS sculptures.