The Tate Modern is currently displaying "Andy Warhol," a retrospective exhibition, stating "This major retrospective is the first Warhol exhibition at Tate Modern for almost 20 years." While expected to draw thousands of visitors to the museum, due to COVID-19, this exhibition has now been converted into a virtual experience, available on the Tate's website. With all non-essential business and institutions closed until further notice, art museums and galleries around the world have had to adapt to this new normal. What the Tate is offering in place of an in person experience is a comprehensive online exhibition. Visitors can browse through the virtual gallery as one would walk through the exhibition rooms in real life.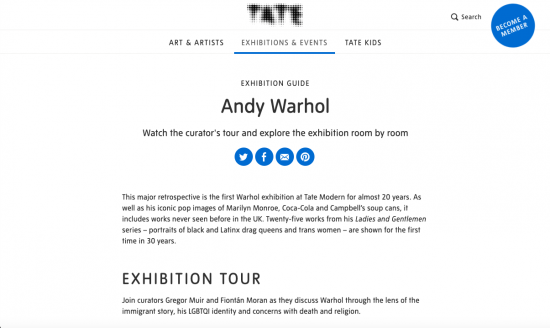 On the Tate Modern's website, the virtual exhibition page is titled "Andy Warhol – Exhibition Guide" and begins with an informative seven minute video conversation between Gregor Muir, Director of Collection, International Art, and Fiontán Moran, Assistant Curator. The two talk about the different aspects of the exhibition and what the curatorial focus is. "We wanted to take him out of the hype and start to look at Andy Warhol through the three lenses of the idea of the immigrant story: his queer identity and the idea of death and religion," says Moran. The exhibition begins with Warhol's immigrant origins, with immigration documents from his family moving to the United States from Slovakia. This brings attention to Warhol's ethnic Eastern European roots and upbringing in what was called the "Czech ghetto" in Pittsburgh, Pennsylvania. Warhol is most commonly associated with all things America as his artwork was instrumental in the American pop art movement and he was artistically fascinated by American society and pop culture. But this exhibition works to take Warhol's art out of that hyper-American context, which is highlighted by this emphasis on his European immigrant upbringing and focus on his exploration of death and religion.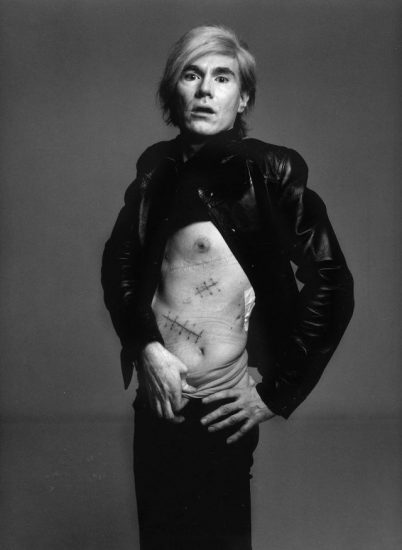 As you continue scrolling down the exhibition's webpage, the museum takes you through each of the 12 rooms of the exhibition. Partly biographical in organization, the exhibition begins with Warhol's early life and first experimental works in film, a work titled Sleep. Room three explores Warhol's relationship to the Pop Art movement, covering his most famous works, like the Campbell's Soup series. Warhol was firstly a commercial illustrator, and his artistic style reflects his creative origins. As the exhibition continues, visitors can see photographs of Warhol's famous studio, The Factory, and all the counterculture craziness that accompanied the place. The exhibition includes one of Warhol's most famous installation works, Silver Clouds, in room five. "Warhol described Silver Clouds, made with engineer Billy Klüver, as 'paintings that float'. He wanted to upset conventional thinking about sculpture, specifically the dominance of minimalist art in the New York art scene at the time."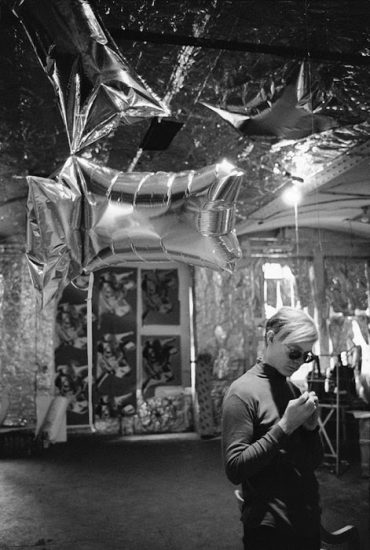 Warhol was shot in the stomach in 1968, and this event changed him forever. Room seven explores how the shooting affected Warhol's art and his relationship with death. Warhol worked through his near-death experience and created works portraying death-related objects and scenes, like electric chairs and fatal car accidents. The rest of the exhibition works through Warhol's fame and celebrity and other famous subjects he obsessed over artistically, like his portraits of Mao Zedong. Moving into the 1980s, Warhol navigated a new political and social landscape with the rest of the world, dealing with the Cold War. The last room in the retrospective focuses on a large-scale work Warhol did recreating Leonardo da Vinci's The Last Supper. Tying in the last theme of religion, this work is a fitting end piece for an exhibition that takes the viewer on a journey through Warhol's illustrious life.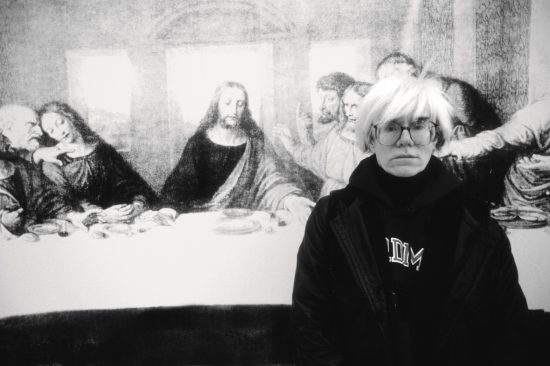 The overall experience of moving through this online exhibition is incredibly interesting. Albeit not as fulfilling as seeing the works in person, this virtual gallery is still a wonderful way to experience the works of Andy Warhol and learn so much about the artist's life. In our digital age, it is surprising that museums are just now taking advantage of this idea. Not only does it foster interest in visiting the museum in person, but it allows for so many more people to access their collection around the world. Improving accessibility is always important, and even more so for fine art, which is still often seen as elitist. Viewing the Andy Warhol retrospective online is free and easy for anyone who has access to the internet. While this virtual exhibition was created out of need due to COVID-19, it is an idea worth revisiting after this crisis is over. 
Museums are not the only ones adapting to this new world. Here at Masterworks Fine Art, we have had to completely rethink our gallery experience and the way we do our business. By using video chatting applications like Zoom, Skype and Facetime, we have been able to connect with clients and help them with any questions they may have. We are able to show clients works they are interested in through these video calls and we are working hard to ensure their satisfaction. Masterworks is thinking to the future, how this pandemic will change the world we live in after it is over and what that means for the art gallery industry. Although fine art is best viewed and experienced in person, videos and photographs can stand in to protect your health and safety in the meantime.