Pablo Picasso (1881-1973) is widely known for his paintings and sculpture, but his work in printmaking is just as prolific. Picasso utilized and experimented in many forms of printmaking techniques, from etching to aquatint to lithography. Picasso Lithographs, especially, was something the artist experimented in heavily with the help of master printmaker Fernand Mourlot. Before 1945, Picasso lithographs were dabbled in between his work in etching and aquatint. Most of his work up until this point was in black and white and very few prints were Picasso lithographs. But with the meeting of Mourlot in 1945 he began a long and prosperous collaborative relationship with the printmaker's atelier.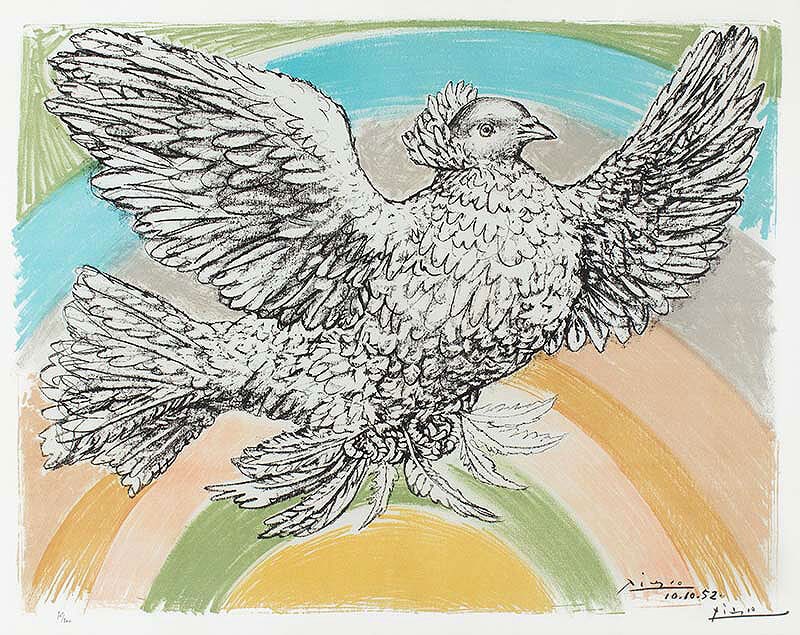 Lithography is a printing technique that originally consisted of the artist drawing their design on a lithographic limestone or metal plate with oil, fat, or wax. Then the stone is treated with an acid and gum arabic solution, which "etches" the non-greased part of the design into the stone itself. The stone is then moistened and an oil-based ink applied, therefore allowing only the drawn on greased design to pick up the ink and print it on the print material. Picasso mastered this technique quickly and subsequently began to push the boundaries of the medium itself.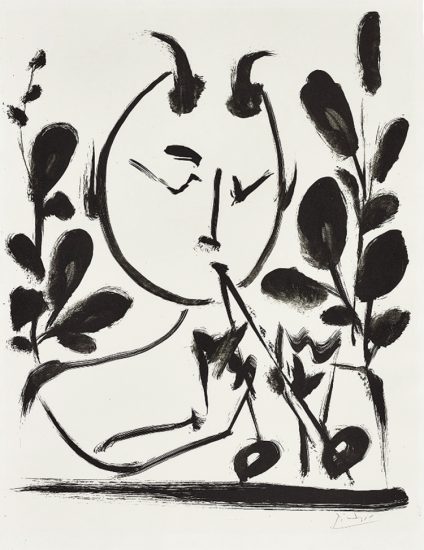 Picasso worked with Mourlot Studios over several months to create over 400 lithographic prints between 1945 and 1969. During this time, Picasso lithographs were experimented in ways the medium had never seen before. With unconventional methods like finger painting, using bright colors, and creating plates from collage and mixed media, Picasso confused and frustrated the master printmakers in Mourlot's atelier. "He looked, he listened, he did the opposite of what he had learnt- and it worked," Mourlot, the famous publisher and printer, once said of Picasso's lithograph knowledge. He wanted to print in ways that had never been done before, and the printmakers doubted what he was trying to do was even possible. But Picasso not only succeeded in creating his desired prints but he excelled in these new techniques.
Picasso Lithographs opened up a new door in Picasso's career. He worked in this medium for over two decades and used it to explore many concepts, from daily life objects, such as a bowl of fruit, a teacup or a young child, to more complex compositions and portraiture. One of his most famous lithographs is Grande Maternité (Grand Maternity), 1963, a portrait of a mother breastfeeding a young child. The work looks like a line drawing, a far cry from the traditional lithographs of the previous artists who frequented the medium like Eugene Delacroix and Théodore Géricault. Picasso also recreated some of his paintings as lithographs, like Femme Assise (Dora Maar), 1955, his famous portrait of artist and muse, Dora Maar.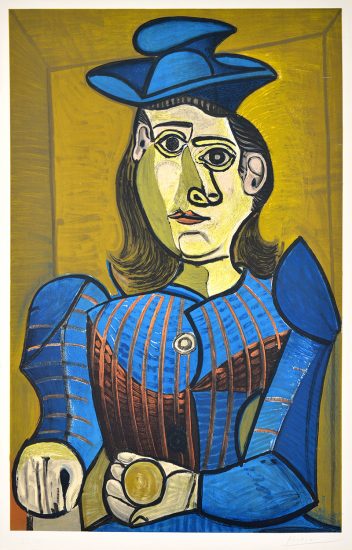 Picasso lithographs comprise a significant portion of his artistic oeuvre and serve as Picasso's enduring legacy. Today, much of his collectable work on the market consists of lithographs due to the sheer quantity Picasso was able to create during his lifetime. These works live on as a testament to Picasso's genius in experimenting and inventing new techniques and forms of creation.