Inspiration for Andy Warhol's Reigning Queens Series
Andy Warhol famously said "I want to be as famous as the Queen of England." In 1985, he turned his attention to the monarchy by creating The Reigning Queens Series screenprints, a portfolio of sixteen works featuring female monarchs of the time. This iconic portfolio is considered Warhol's largest portfolio of screenprints. The queens featured are Queen Elizabeth II, Queen Beatrix of Netherlands, Queen Margrethe II of Denmark and Queen Ntombi Twala of Swaziland.
To create the screenprints, Warhol continued his practice of manipulating existing photographs. The resulting portraits are large with dazzling colors, reflections of each queen's grandeur and position in society. Adding to the glamour, a special edition of the works was scattered with diamond dust so that the screenprints would sparkle like diamonds in the light. This edition is titled separately, Reigning Queens (Royal Edition), 1985.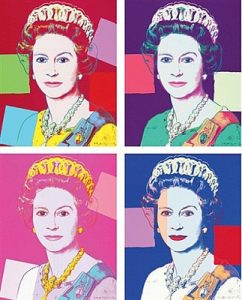 Themes Behind the Reigning Queens Series
The works are not only visually impactful but also thematically significant. First, each queen ruled in their own right, rather than as the result of marriage. Therefore it is possible Warhol intentionally created this portfolio as a symbol of female autonomy and power. Furthermore, these works showcase Warhol's interest with mass imagery and repetition, as they are reminders of the innumerable royal portraits printed on postage stamps and currency. Warhol deliberately equates royal monarchs to the artists and celebrities from his previous portfolios, including them in his broad realm of pop iconography.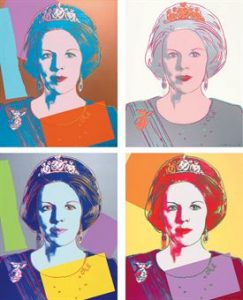 Modern Day Influence
The portfolio remains relevant today given that three of the four queens are still in reign (Queen Beatrix abdicated in 2013). The Royal Collection of Great Britain purchased a set of this series for Queen Elizabeth's diamond jubilee in 2012.