"I and the Village" (1911), Chagall's Unique Take on Cubism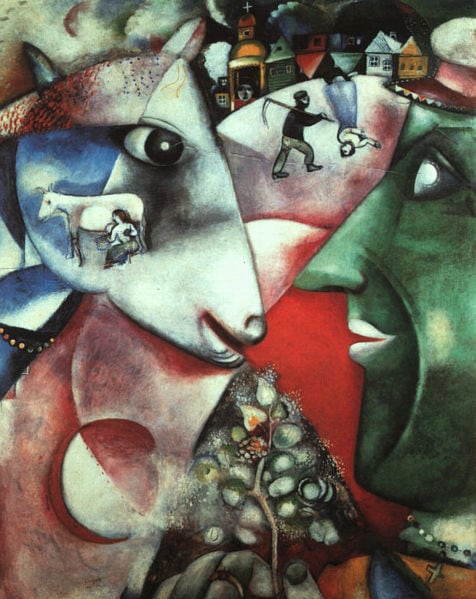 Painted the year after Marc Chagall came to Paris, I and the Village (1911) is one of Chagall's earliest surviving works. A reflection of his dreams and memories from his childhood growing up Hasidic in Vitebsk, Russia, the work is a shows his longing for home and an attempt to fit in artistically with his new surroundings.
Chagall moved to Paris at a time when the dominant art form was Cubism and where removing emotion from art was the popular style which was quite the opposite of his romantic and emotional taste. However Chagall, ever the artistic explorer, experimented with Cubism and the result is the ever charming and captivating work before you.
The geometries of I and the Village (1911) are inspired by the broken planes of Cubism, but Chagall's interpretation is a personalized version.
As MoMA states: As a boy he had loved geometry: "Lines, angles, triangles, squares," he would later recall, "carried me far away to enchanting horizons." Conversely, in Paris he used a disjunctive geometric structure to carry him back home. Where Cubism was mainly an art of urban avant-garde society, I and the Village is nostalgic and magical, a rural fairy tale: objects jumble together, scale shifts abruptly, and a woman and two houses, at the painting's top, stand upside-down. "For the Cubists," Chagall said, "a painting was a surface covered with forms in a certain order. For me a painting is a surface covered with representations of things . . . in which logic and illustration have no importance."
That is the backbone of I and the Village (1911), as it denotes a beauty and poetry that shines through the chaotic scenes and figures. It unites Cubism with Romanticism and seamlessly integrates Russian and Yiddish folktales and culture. The work is a style and story all of Chagall's own creation and one of his most cherished masterpieces, which can be seen at the Metropolitan Museum of Art in New York City.
View our entire collection of Marc Chagall prints.