The DreamWorks animated movie 'Home' is a touching story of love, loss, acceptance, and friendship that focuses on the adventures of an alien named Oh who is seeking redemption and a girl named Tip who is searching for her mother. In the film's first weekend of showings, the movie earned over $54 million domestically making it the number film at the box office. And it's not hard to see why as accompanying the wonderfully touching script is a voice cast led by Rihanna, Jennifer Lopez and Jim Parsons.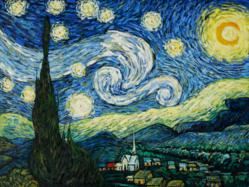 For those who have seen or will see the movie, there is a particularly charming sequence that centers around Starry Night by Vincent van Gogh. In this scene Tip discusses that the purpose of art is not to satisfy hunger but rather to satisfy the soul. That art brings out intricate emotional and mental states and expressions which Oh is only beginning to comprehend. With the choice of Starry Night, the work appeals to both Oh, as it depicts the Milky Way, and Tip as it depicts the yearning for home. This really touches upon us as the audience, as we relate to their struggles and desires, but also provides an Easter egg for those of us who are art history lovers. Just as Oh the alien wants somewhere to belong and Tip wants the security of her mother, in reality van Gogh had those same yearnings.
Van Gogh, who was ostracized by many communities during his lifetime, moved frequently searching for a home. He wanted somewhere to belong and sought companionship through the form of consorts and lovers. He relied heavily on his brother and sister-in-law for support, often making for strained relations. Van Gogh wanted more in his life and unfortunately never found that longed for commercial success or personal fulfillment in his lifetime. However we revere him today as a master at his craft, and in the movie well I wont spoil that for you but for those of you haven't seen it you should.