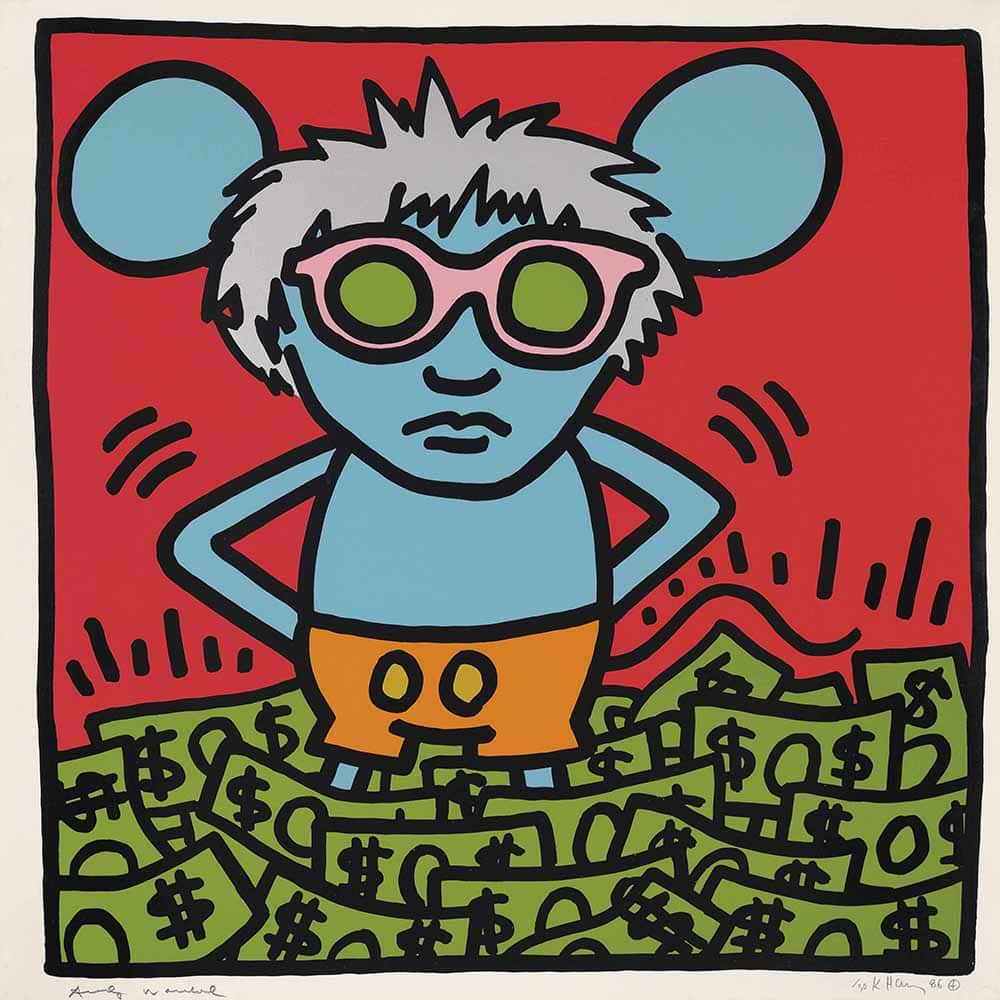 Keith Haring's Andy Mouse series is a set of four 38 x 38 inch silkscreens made in 1986 that depict the character of "Andy Mouse," a hybrid of two iconic pop culture icons—Mickey Mouse and Andy Warhol. Andy Mouse, who resembles Mickey Mouse in an Andy Warhol costume, wears a pair of Mickey Mouse shorts, round sunglasses, and Warhol's trademark silver shock of hair. In some images, Mickey Mouse's trademark gloved hands and big shoes can also be seen. Each print in the series depicts the character in a different situation. Andy Mouse I centers a blue Andy Mouse looking out at the viewer straight on, arms behind his back, standing in a pool of green dollar bills that extends beyond the confines of the image. Lines that suggest movement trace the outlines of both his arms and the pile of money, as Andy Mouse stands expressionless among the wealth. The Andy Mouse in Andy Mouse 2 is being held up by a crowd of Haring's beloved outlined figures, each of them holding dynamic positions to carry Andy Mouse, almost as if being crushed by his weight. Radiating lines both suggest movement and seem to emanate from Andy Mouse's figure, drawing attention to him. Andy Mouse 3 transforms Andy Mouse into the central figure of the dollar bill, his portrait replacing the typical image of the political figure one would expect. The bill, which also displayed two dollar bill signs, "USA," and Andy Mouse's signature, is held up by two of Haring's figures, and the movement lines once again radiate from Andy Mouse, this time encircling the dollar bill. The composition of Andy Mouse 4 mirrors Andy Mouse 1, depicting a centrally placed Andy Mouse in the same position with his arms behind his back, but this time without the pile of money at his feet. In Andy Mouse 4, Andy Mouse is no longer surrounded by money, but is transformed into money itself. Now green, the dollar bill sign is prominently displayed on his chest, making it clear that Andy Mouse himself has achieved value in and as himself. This set of works is one of the rarest of Haring's portfolios and one of his most expensive sets.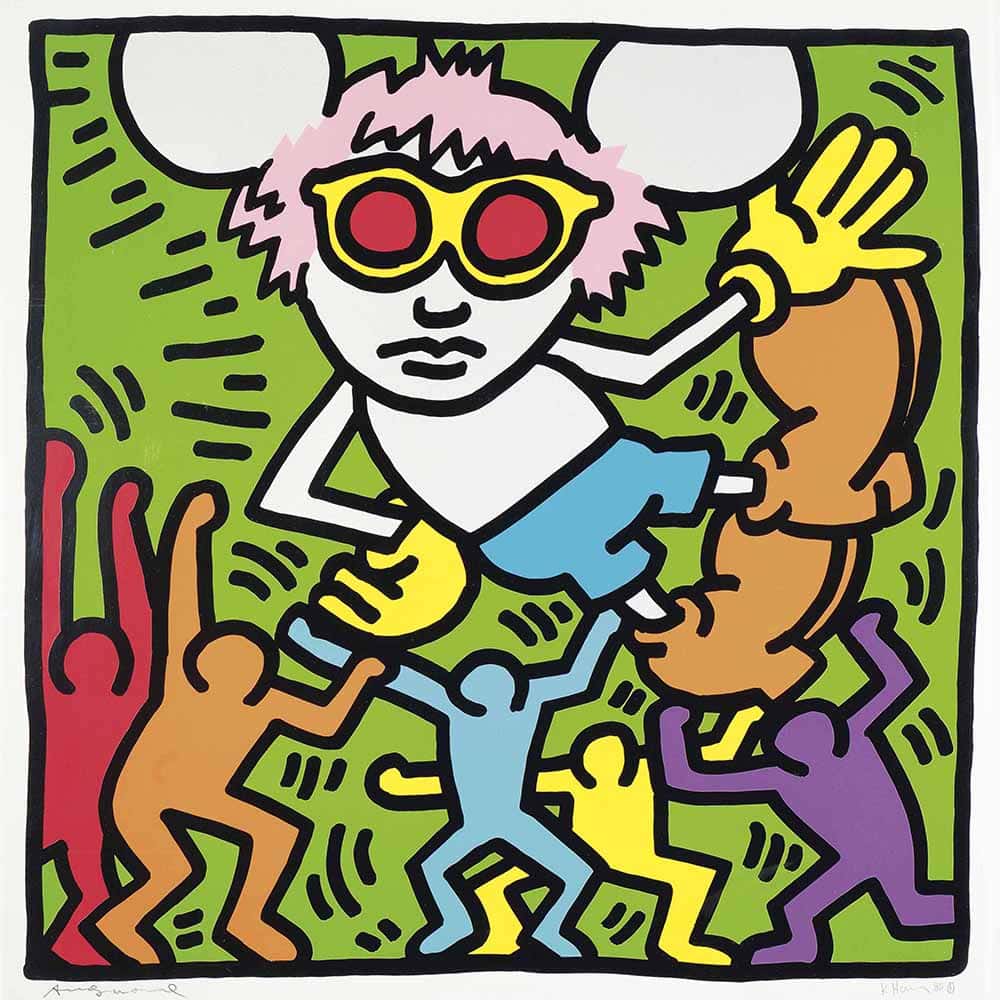 Andy Mouse is a tribute to the famous Pop artist and their shared fascination with the work of
Walt Disney as a symbol of American culture. Haring considered himself to be heavily
influenced by Andy Warhol, saying that "Warhol's life and work made my work possible…he
was the first real public artist and his art and his life changed our conception of art and life in the
20th century." Haring respected Warhol deeply, and the two artists met multiple times
throughout their careers, first meeting at the closing party of one of Haring's exhibitions at Tony
Shafrazi Gallery in 1982, a meeting that Warhol recounts in his diaries. As they continued to
encounter each other, the two became closer and eventually friends. Warhol even created a
portrait of Haring and his partner, Juan Dubose, in 1983. The Andy Mouse series is Warhol and
Haring's first and only collaboration due to their respective untimely deaths, Warhol's in 1987
and Haring's in 1990. Haring considered Warhol to be a singular artist and resisted comparisons
that were often drawn between himself and Warhol, insisting that Warhol was the only true Pop
artist.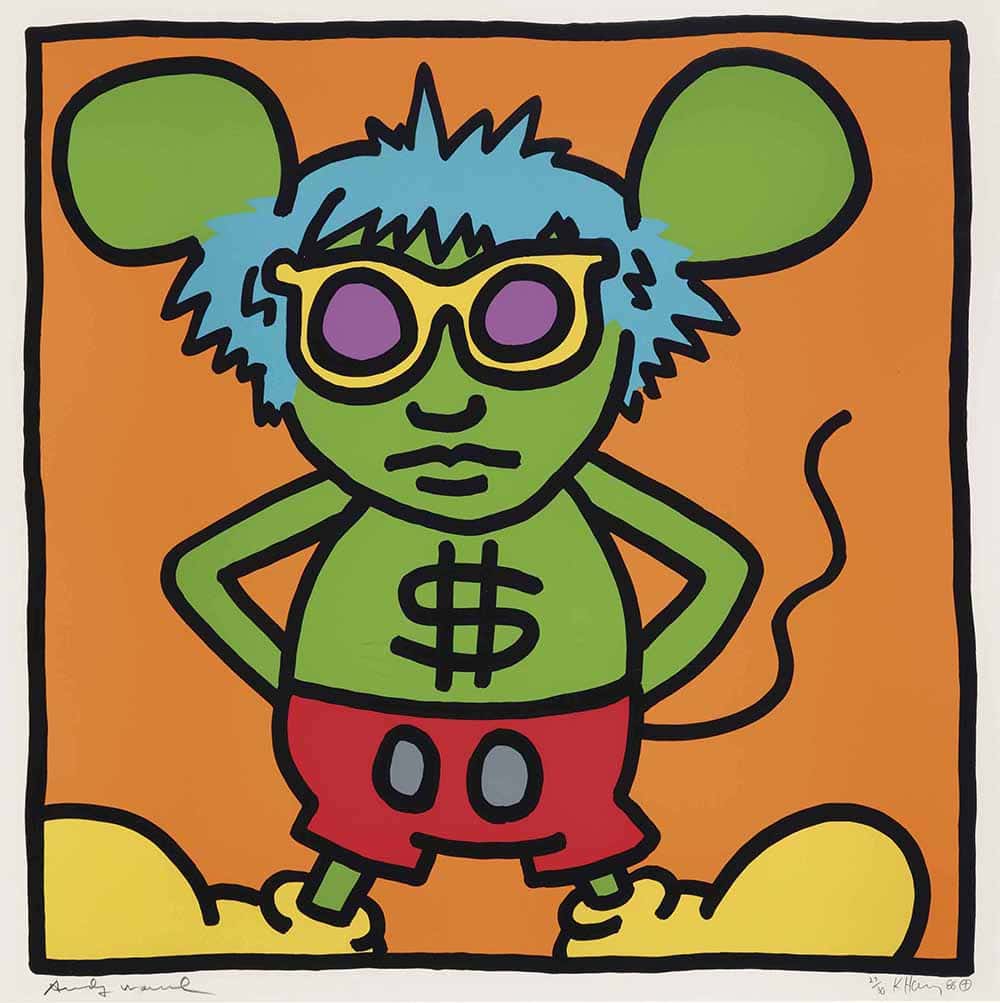 Taking a cue from Warhol's own practice, Haring plays with the themes of American
consumerism and popular culture by conflating two seminal figures in American popular culture
in his Andy Mouse series. Haring states that the Andy Mouse series is "…like treating [Warhol]
like he was a part of American culture, like Mickey Mouse was. That he himself had become a
symbol, a sign for something complete, universally understandable." By treating Warhol as a
larger-than-life symbol in his own right, Haring elevates Warhol from an artist to a cultural icon.
The series shows the depth of the friendship of these two artists, giving audiences
a peek into the relationship between these two historic art world figures. Haring considered
Warhol to be one of his primary influences and an artist that he learned a lot from, both in terms
of artistic style and in navigating life as a public figure.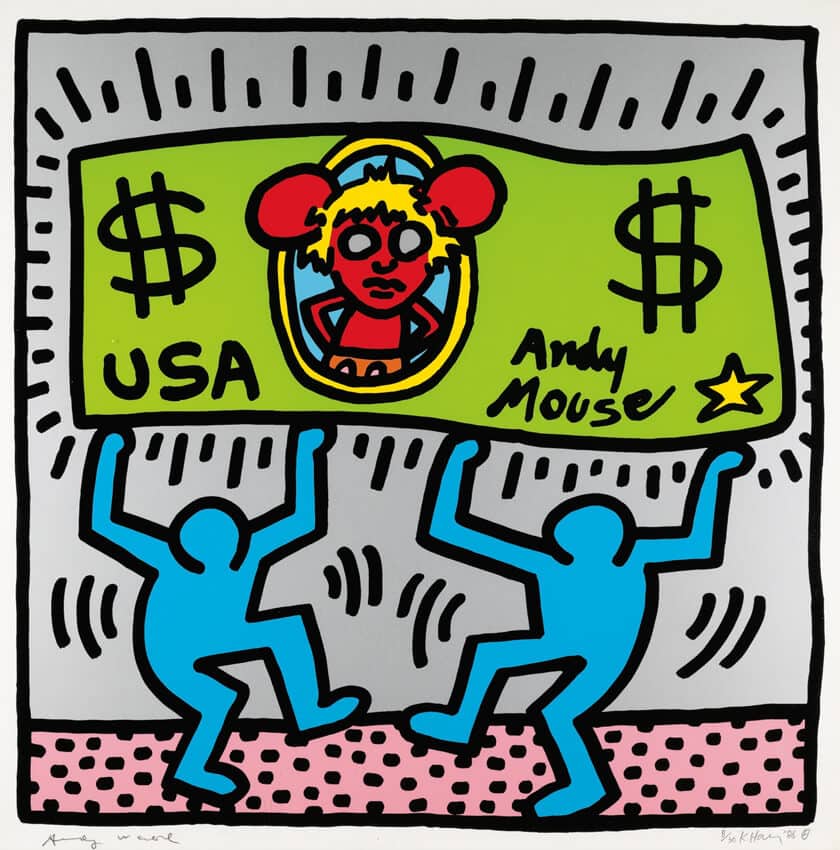 Keith Haring was born in Reading, Pennsylvania in 1958. He had a creative side since he was a
young child; his father, Allen, was an engineer and amateur cartoonist, encouraged Haring's
early interest in cartoons, especially Disney, Dr. Suess, Charles Schulz, and the Looney Tunes,
influences that will be seen in Haring's work for the rest of his career. In order to pursue the love
of drawing that he had fostered since an early age, Haring attended the Ivy School of
Professional Art in Pittsburgh after graduating high school, before deciding that he did not want
to work in commercial art. This prompted him to move to New York in 1978 and attend the
School of Visual Arts. He became very quickly entrenched in the East Village art scene, and by
the 1980s he was working and exhibiting closely alongside other iconic artists of the time,
including Jean-Michel Basquiat, Cy Twombly, Joseph Beuys, Andy Warhol, and others.