Stacey Park Milbern, Art Twink, and the Google Doodle

We were born into this world exactly as we are. We are who we were meant to be.

Stacey Park Milbern
If "your everyday queer Korean girl from the South", as Stacey Park Milbern once referred to herself as, can be featured as a person to remember on her 35th birthday via Art Twink's playful illustrative art featured today only on Google Doodles.
Featured today as a representative of Asian Pacific American Heritage Month, Stacey died two years ago today on her 33rd birthday after a complication during kidney surgery. Born May 19, 1987 in Seoul, South Korea, Milbern was diagnosed with muscular dystrophy and spent the majority of her life rising to what she believed was a challenge, not a limitation. Having grown up in Fort Bragg, NC and then moving to California to eventually dedicate herself to advocating for marginalized communities while co-founding the disability justice movement. She got her Bachelors in North Carolina at Methodist College, and eventually earned her MBA in business administration in 2015 from Mills College, a women's undergraduate and gender non-binary students with graduate programs for all genders in 2015.
California based guest artist Art Twink centers the doodle on Milbern and surrounds her with people, objects, and symbols that are representative of the world she curated for herself. Focusing on Stacey and her home where she brought people together for the Disability Justice Culture Club, represented by an intimate group of people in wheelchairs, a group cofounded by Stacey to serve as a gathering place for disabled BIPOC community via events, meetings, and meals. Both the Pride flag and Trans flag wave in the symbolic wind above them, a sure symbol of Milbern's identity and those she sought to protect. In the artist's traditional style is the head of a tiger in the far right corner, with it's tail swooping behind the fray to circle around Milbern, creating the curved lined for the letter G.
"In seeing Stacey," Art Twink explains that they hope "people will see themselves, embracing who they are".
In response to the COVID-19 pandemic, she and a couple of friends built and distributed disease-prevention kits with hand sanitizers, disinfectants, and respirators to the nearby homeless encampments. A few months later, PG&E (our gas and electric company) had serious power outages to combat the California wildfires. Stacey armed herself with a spreadsheet and a will to reach those in her community who were about to lose their vital electricity, and played matchmaker for people who needed electricity and those who could offer it. Within hours, more than 250 people in need were connected to community members offering rides, outlets, fridge space, and safe places to rest.
Stacey Park Milbern's legacy lives on in countless ways, from being one of President Barack Obama's appointed advisors on intellectual disabilities to working on the virtual experience for the Oscar-nominated Netflix documentary, "Crip Camp", to local grassroots organizing to ensure her community found the care they needed.
Today, let's celebrate Stacey's birthday, Global Accessibility Awareness Day, and the art that Art Twink made for her. And then tomorrow, let's continue, as Stacey explained, "creating a world where everybody can really participate in."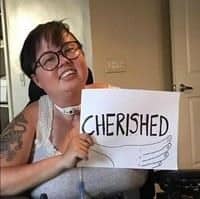 I want to leave a legacy of disabled people knowing we are powerful and beautiful because of who we are, not despite it.

Stacey Milbern Park
A note from the author:
I never met Stacey and didn't know of her until today's Google Doodle. She lived 10 miles away from me and I drove past, and still drive past, the college she attended on my way to work at Masterworks Fine Art Gallery. I wish I had met her. But in a way I have, because her presence is so obvious now that I know of her work in our immediate community, in the San Francisco Bay Area, and now the world. Her accomplishments are too vast for me to cover everything here. I admire Stacey and I'm glad Google made this doodle.
Further reading: