On October 23rd, 11 pieces of Picasso's oeuvre that has been on display at the Michelin-starred French & Spanish eatery "Picasso", named after the artist, in Las Vegas will be taking part in one of the most valuable Picasso auctions staged. In collaboration with Sotheby's, the works owned by MGM resorts have a combined value of $100m and is part of the MGM's initiative to "deepen diversity and inclusion" within its art collection. Brooke Lampley, the worldwide head of fine art sales at Sotheby's, said her team could not wait to "bring the magic of a Sotheby's evening sale to Las Vegas" for the first time. "As one of the most famous, beloved and accomplished artists of all time, we couldn't imagine anyone better than Picasso to inaugurate this unique art and culture experience." The Picasso marquee auction, scheduled two days before Picasso's 140th birthday, is slated to be the "largest and most significant" fine art sale to take place is Las Vegas, according to Sotheby's, as well as an opportunity for MGM to attempt to reposition the city as a "broader art destination" instead of just the city of Sin.
The collection being auction features works from 1917 to 1969 is a comprehensive display of Picasso's incredibly "diversity and richness" of his career. Among the 11 works being shown is Femme au béret rouge-orange, an oil painting of Marie-Thérèse Walter, the young model the artist had an affair with between the late 1920s and 1930s. Many of Picasso's extensive repertoire of portraits of Walter, the mother of his daughter Maya, are illustrated by vivid colors and a sense of intimacy. "I just love the Marie-Thérèse period, because it's the most unusually sincere and romantic period of Picasso's career," Lampley said. This work is estimated to sold for approximately $20m to $30m.
Another highlight of the sale is Picasso's Nature Morte au Panier de Fruits et aux Fleurs, a still life that was painted during 1942 during the Nazi occupation when Picasso was barred from exhibiting work. The artwork was made with a heavy application of paint, almost reminiscent of Van Gogh. The still life comes with an estimate of $10-$15m.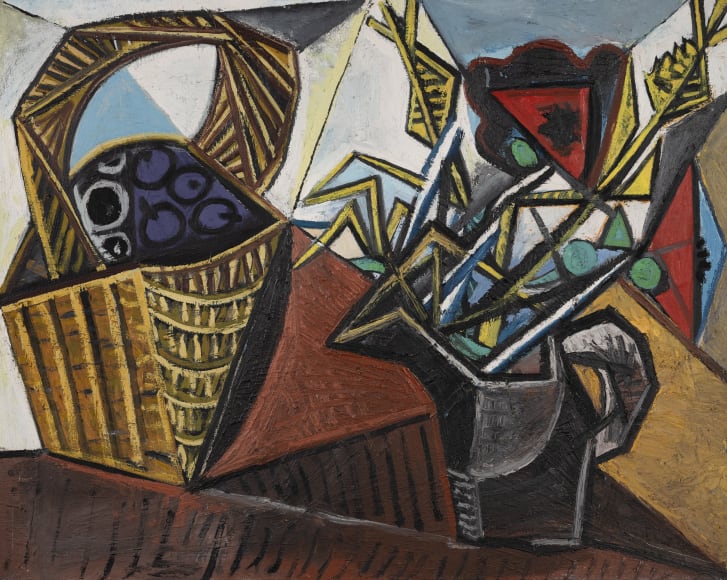 Other works in the sale include two of Picasso's larger paintings, created between 1969 and 1970 – Homme et Enfant ($20-30m) and Buste d'Homme ($10-15m). Both were included in a 1970 exhibition at the Palais des Papes in Avignon, probably the most important exhibition of his late career.
The auction on the 23rd will also be accompanied by a four-day exhibition of "the worlds finest luxury items", from October 21st through the 24th, selectively curated by Sotheby's to compliment the auction. While the four-day exhibition won't feature Picasso's works, it will have other luxury objects such as jewelry, automobiles, and fashion items. The items will then be sold at the end of October, in New York.
Ari Kastrati, the chief hospitality officer of MGM Resorts, said it promised to be a "momentous auction". "We are committed to creating an even more inclusive collection that maintains the breadth of our existing portfolio while giving a greater voice to artists from underrepresented communities."