A recent discovery, made by a senior researcher at the Van Gogh Museum, has identified Van Gogh as one of the previously unidentified background figures in Henri Toulouse-Lautrec's The Refrain of the Louis XIII-style Chair at the Cabaret of Aristide Bruant (1886), a drawing that depicts a boisterous night at Le Mirliton, a cabaret at Montmartre in Paris. This discovery sheds light on the Parisian nightlife that engaged and inspired many of the major artists of that period and the friendship between Henri Toulouse-Lautrec and Vincent Van Gogh, two of the most influential figures of the 19th century.
Henri Toulouse-Lautrec was a student in the studio of the artist Fernand Cormon during a divided period in the French art world. Though the art world was split into two camps—academic painters, such as Cormon, and an Impressionist movement—Cormon did little to discourage his students from exploring the world outside of his atelier. It was in Cormon's studio where Toulouse-Lautrec would meet the Dutch painter Vincent Van Gogh. Van Gogh, who was 11 years his elder, lived only five minutes from Toulouse-Lautrec, making it easy for the two to run in the same circles, attending the same lessons and running in the same social circles.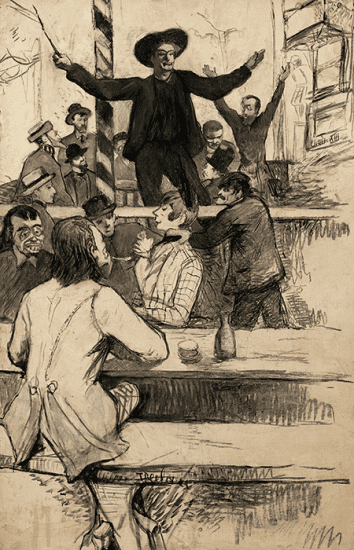 Toulouse-Lautrec spent his days working in the studio and his nights experiencing Parisian nightlife, especially dance halls and bars around Montmartre. With his penchant for these types of outings, it is hardly a surprise that he would strike up a friendship with Van Gogh. Van Gogh was well-known for his alcohol consumption; when describing his after-work activities, Paul Signac stated that "the absinthes and brandies would follow each other in quick succession." It is, then, also not surprising that Van Gogh makes an appearance in this particular Toulouse-Lautrec drawing, which depicts the cabaret run by the singer Aristide Bruant at its height of activity on a particularly rowdy night. Though relatively unarticulated, the figure in the upper left corner of the drawing bears an unmistakable resemblance to Van Gogh, sporting the same beard and mustache, as well as a tuft of hair peeking out from his hat. Van Gogh is shown seated next to Toulouse-Lautrec himself, and the two are surrounded by fellow artists such as Louis Anquetin. The drawing positions Toulouse-Lautrec and Van Gogh as regular fixtures in these kinds of Parisian antics, supporting accounts of both of their respective affinities for spending nights out on the town
This is not the only time that Toulouse-Lautrec depicted his friend—a 1887 portrait of Van Gogh by Toulouse-Lautrec depicts him with a glass of absinthe on a quiet night out—but generally speaking, it is rare to encounter a likenesses of Van Gogh that is not a self-portrait. Beyond his appearances in his work, it is clear that Van Gogh had an influence on Toulouse-Lautrec's style, encouraging him to use more Impressionistic strokes and colors. It is also clear that Toulouse-Lautrec was a great supporter of Van Gogh's career. The two would often visit each other's studios to show each other their work and show in the same exhibitions. Toulouse-Lautrec defended Van Gogh against his critics on multiple occasions, going so far as to challenge a painter to a duel after he criticized Van Gogh's work at an exhibition (luckily for everyone involved, the painter would apologize before a duel became necessary). 
The Refrain of the Louis XIII-style Chair at the Cabaret of Aristide Bruant acts as wonderful visual documentation of the artistic and social exchanges that defined the development of French art in the late 19th century, driven by exposure to the sometimes wild and boisterous Parisian nightlife. It also spotlights a fierce friendship between two outstanding artists who have come to represent some of the best artwork not only of the Impressionist and Post-Impressionist movement, but arguably of all of art history. 
Browse our collection of fine art Henri Toulouse-Lautrec Lithographs and Prints.