Pablo Picasso was born in Malaga, Spain in 1881. Malaga is a city on the southern coast of Spain, known for beautiful weather, wine, and its seaport. Picasso lived in Spain until around 1900, when he began to split his time between Paris and Barcelona. The artist would spend a lot of his later life in France, where he would die in Mougins in 1973. Consistently throughout his long and successful artistic career, Picasso maintains his Spanish roots and this cultural influence is seen in many ways. One of the most notable and recognizable motifs Picasso worked with is that of bullfights.
Bullfighting has a long and storied history in Spain, dating back to pre-Roman and prehistoric times. The tradition involves a person in a contest to publicly subdue, maim or kill a bull, usually in a large arena. This Spanish-style bullfighting is known as a corrida, and involves three toreros (or matadores) each fighting against two out of a total of six fighting bulls to death. This cultural tradition is fairly widespread in Spain today, despite a decline in popularity due to concerns over animal welfare.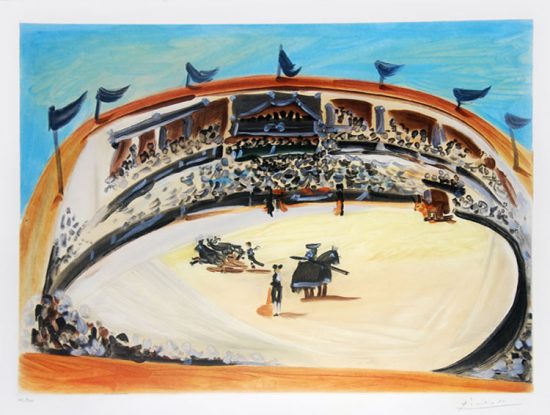 La corrida is an imagery that is rooted in the Spanish culture and this tradition is something Picasso was fascinated with portraying in his artwork. One example of this is his 1956 work La Corrida (The Bullfight), a color aquatint on Arches wove paper. This print features a lively scene of an arena hosting a bullfighting event, showing the excitement of fans and onlookers. "In the work of Picasso, the bull is like one of those Spanish rivers, turbulent and agitated, which lose themselves among the brambles, rocks, and reeds, only to reappear later at some other place further on, in plain sight. There are times when it appears that the bull is adumbrated even in the 'figures' of the painter, figures as profound as they are debatable and enigmatic" (Marrero, 83).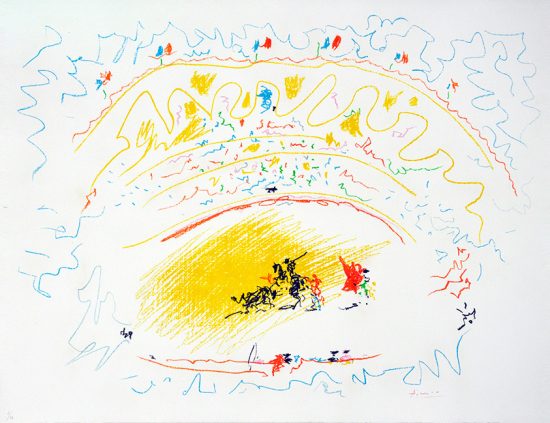 A lithograph from 1957 titled Corrida (Bullfight) displays the same familiar scene but in a much more abstracted composition. A colorful array of lines and shapes create an energetic and chaotic scene. Picasso effortlessly conveys the excitement of the Bullfight scene, drawn with an inexactitude and confidence that communicates the festive and precarious nature of the sporting event. Captured as an aerial spectacle, the composition beckons the viewer to feel as a present attendant, witnessing first-hand the scene before them.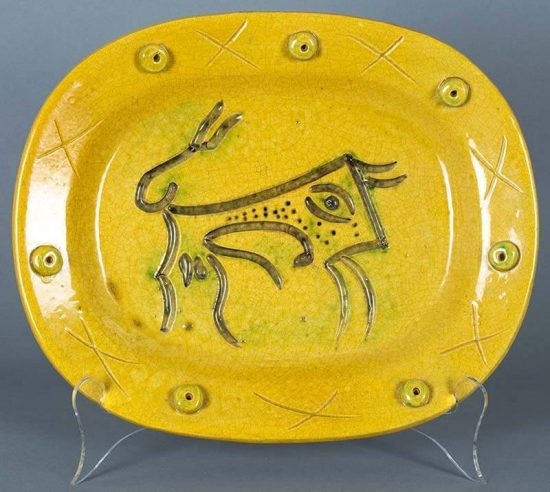 Picasso also experimented with bullfighting imagery in his ceramics. His work Bull, 1947, a white earthenware clay rectangular dish with decoration in engobes and engraved under yellow glaze, is an incredible rendition of a bull, drawn in a way that mimics prehistoric cave drawings. With the tradition of bullfighting's prehistoric roots in Spain, this visual callback and connection works beautifully. Picasso was a master at fully exhausting different subjects as artistic motifs, giving us an incredibly well-rounded body of work related to the important cultural traditions of corrida.
Enjoy our fine art collection of Pablo Picasso bullfight.