As the most influential artist of the 20th century, Pablo Picasso was as charismatic as he was talented. From Lithographs to Madoura Ceramics to Linocuts to paintings to Etchings, his oeuvre is one of the most impressive in history. The extraordinary energy to which he devoted to his oeuvre, was matched only by the energy with which he pursued women. A well-known womanizer like many of his contemporaries and predecessors, Picasso is said to have had hundreds of lovers. However only eight are considered his most important muses, the women whom inspired him to create his masterpieces and drove his success.
Below are the stories of these captivating women and the famous works they inspired:
Fernande Olivier (In Picasso's life from 1904-1912)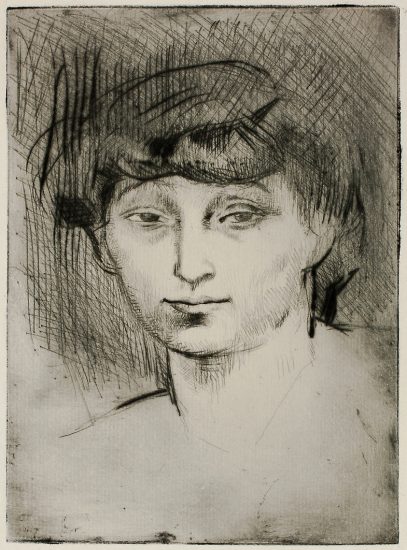 The first woman to capture Pablo Picasso's attention and heart was Fernande Olivier ( Read Loving Picasso: The Private Journal of Fernande Olivier*). By 1904, he had settled permanently in Paris, taking a studio in a rundown building on the Seine. It was here that Fernande Olivier caught his eye, a beautiful artists' model with striking red hair, almond eyes and a voluptuous figure. Although Fernande was technically married, she stayed with Picasso for nine years.
A fiercely independent woman who kept her own affairs, she is responsible for ending his Blue Period and beginning his Rose Period, in which he abandoned the somber tonalities and the melancholy of his Blue Period in favor of a lighter palette and idealized forms. Such famous works featuring her include Head of Woman (1909), Lady with a Fan (1905) and Portrait of Fernande Olivier (1909).
As he became more successful, Picasso became more paranoid, and soon he developed an intense possessiveness with Fernande, even going so far as locking her in a room when he would leave. She finally left him in 1912 for an Italian painter, and impoverished took various odd jobs to survive. In 1933 she published her memoir, Picasso and His Friends, outraging Picasso and in 1956, deaf and arthritic, persuaded Picasso to pay her a small pension in exchange for her promise not to publish anything further about their relationship.
Eva Gouel (Marcelle Humbert) (In Picasso's life from 1912-1915)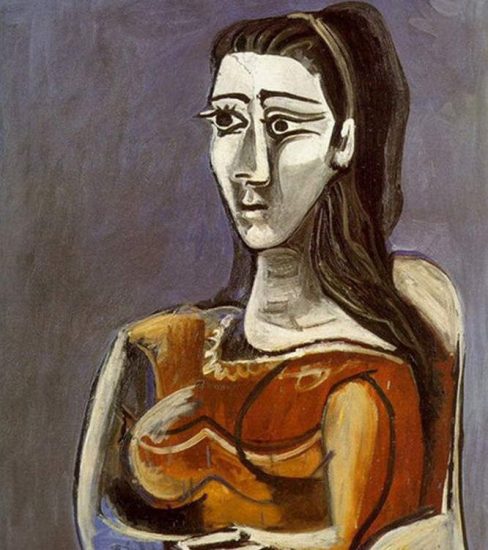 In retaliation for Fernande leaving him, Pablo Picasso took up with one of her friends, Marcelle Humbert, a frail, slender young woman whom was known as Eva. Eva is considered the "queen of his cubist works" as she is portrayed broken up and reassembled in an abstracted form through works such as Nude, I Love Eva(1912), Femme assise dans un fauteuil (1913) and Woman in an Armchair (1913-1914).
When Eva contracted tuberculosis in 1915, he cared for her but was secretly sleeping with a young woman named Gaby, depicting her in a series of intimate paintings and sketches. Eva succumbed to her sickness, and Picasso was devastated, professing his love to Eva by painting "I Love Eva" in some of his paintings.
Olga Khokhlova (In Picasso's life from 1917-1927)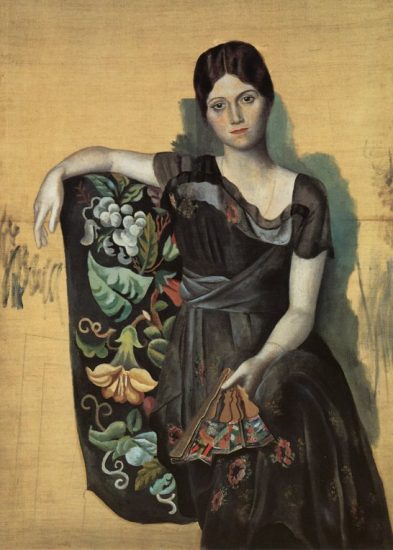 After Eva's death in 1915, he left France for Rome to paint the scenery for a ballet and soon fell in love with one of the ballerinas, a Russian named Olga Khokhlova. Refusing to succumb to his advances, Pablo Picasso became completely obsessed with having her and, after Olga gave in, they were married in 1918, making her his first wife.
Olga detested Picasso's unflattering cubism style and demanded to only be portrayed in a more flattering academic manner. This turned Picasso's portrayals of her to a more naturalistic style as she embodied the ideals of Picasso's Neoclassical period, which were characterized by a renewed interest in naturalistic representations of the human form. Such works are Portrait of Olga in an Armchair (1918), Olga in a Mantilla (1917), Madame Olga Picasso (1923) and Portrait of Olga Khokhlova (1923).
Olga's signs of madness however were brought on by Picasso's constant infidelities, which had driven her to the verge of a nervous breakdown. Unable to bear her husband's infidelities any more, Olga took their son and left the artist to live in the South of France where she remained separated, but obsessed with Picasso for the rest of her life. Picasso refused to grant her a divorce as he did not want her to receive half of his wealth, and she refused to completely let him go, wanting to make his life as miserable as possible until her death in 1955. Picasso would immortalize their battle in works such as The Minotaurmachy (1935) and Bullfight: Death of the Torero (1935). Setting up a home in Paris, they had a son named Paulo Picasso who was the inspiration for a series of tender works titled Maternité. The marriage was happy at first, but then life became very demanding. Picasso lost interest and their marriage fell apart, with Picasso's style becoming aggressive using colors that expressed his anxiety over Olga who was showing signs of madness.
Marie-Thérèse Walter (In Picasso's life from 1927-1936)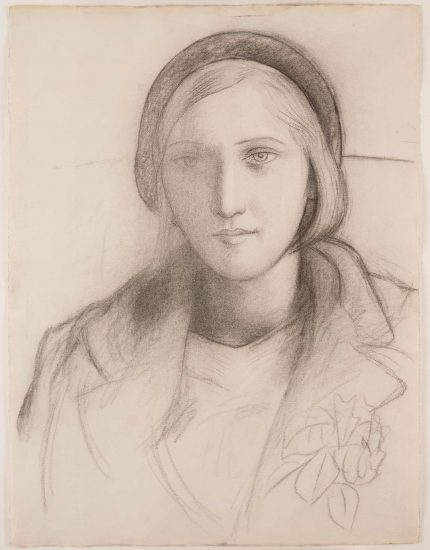 It was during the dissolution of his marriage with Olga, that in 1927 Pablo Picasso met a beautiful blonde, Marie-Thérèse Walter, on a Parisian street. Soon they became lovers, and although Marie-Thérèse was just 17, and Picasso was 46, she was the most enduring love of his life, perhaps the only woman who made him truly happy.
Intelligent but not intellectual, Marie-Thérèse was submissive and tolerant. With her full-bodied frame and submissive nature, Picasso easily manipulated her to suit his pictorial and sculptural sensibilities, which made her an ideal muse and model for his Surrealist period, in which he explored extreme physical and psychological states, often by rendering the human figure with imaginary and distorted forms.
Picasso's paintings of her, while highly sensual, are suffused with a tenderness that is absent from his paintings of other women. It was Marie-Thérèse who was the inspiration for many of Picasso's famous Vollard Suite etchings, as well as Sleeping Nude (1932), Marie-Thérèse Walter in Le Rêve (The Dream) (1932), Marie-Thérèse avec une guirlande (1937) and The Farmer's Wife (1938).
In 1935, Marie-Thérèse gave birth to Picasso's first daughter, Maya. Although Picasso was delighted, his dalliances with other women became too much for their relationship. Leaving him in 1936 after losing his affections to Dora Maar, Marie-Thérèse lived a quite life. She remained loyal to Picasso even after their affair ended, and even though she declined his proposal of marriage following the death of his wife Olga in 1955, she eventually hung herself in 1977, four years after Picasso died. It is a statue of Marie Thérèse that was placed over his grave when Picasso died, symbolizing his eternal love for her.
Dora Maar (In Picasso's life from 1936-1944)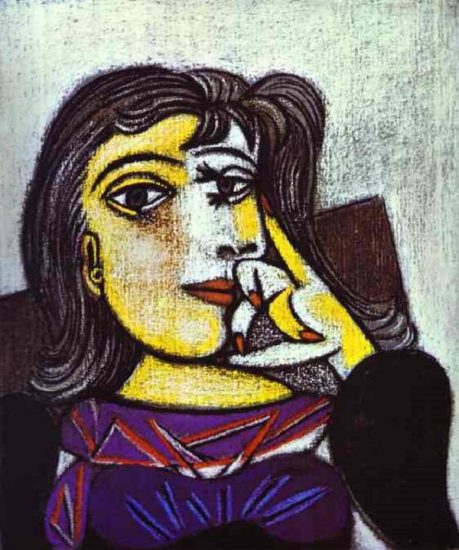 At 29 years old Dora Maar was nearly half Pablo Picasso's age, but she was intellectual, gifted and beautiful, and there was an instant connection as she was a photographer, painter and poet who would become Picasso's lover for seven years. She witnessed the step-by-step creation of the Guernica (1937), Picasso's greatest masterpiece, and her features are scattered throughout the brilliant work that depicts the tragedies of war and the suffering such chaos brings on innocent civilians.
Picasso's works of her are portrayed with acidic colors and angular forms as can be seen in the Portrait of Dora Maar (1937), Weeping Woman (1937), Dora Maar au Chat (1941), Buste de femme au chapeau a fleurs (1942) and Femme assise (Dora Maar) (1944). As Picasso himself noted: "For me she's the weeping woman. For years I've painted her in tortured forms, not through sadism and not with pleasure, either; just obeying a vision that forced itself on me. It was the deep reality, not the superficial one."
Dora suffered frequent emotional distress and upon learning about his newest affair with Françoise Gilot in 1945 suffered a total mental collapse. It was during this time that Picasso left her for Françoise, and Maar after undergoing psychoanalysis, went back to painting in Paris. In later years she became a recluse, dying poor and alone. It was Dora who once famously told Picasso: 'As an artist you may be extraordinary, but morally speaking you are worthless.'
Françoise Gilot (In Picasso's life from 1943-1953)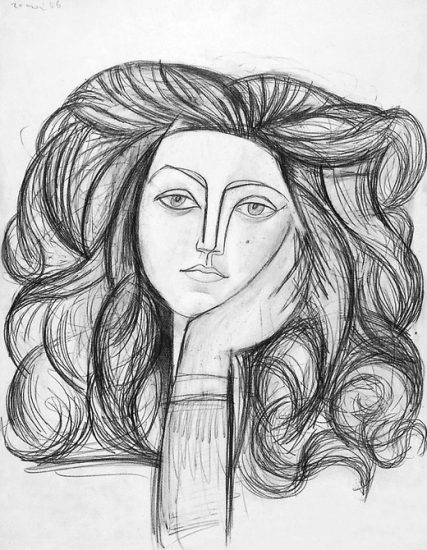 Never seeming to be satisfied, in 1943, Pablo Picasso wooed the 21-year-old law student and aspiring painter Françoise Gilot for months. His works of her are filled with a light color palette and sense of youth and longing as can be seen in Portrait of Françoise (1946), Woman Flower (1946), Femme au Collier jaune (1946) and Woman in an Armchair I (1948).
In love and deeply dedicated to Picasso, Françoise bore him two children, a son, Claude, and a daughter, Paloma Picasso. He was delighted, but Françoise soon became resentful of the abuse and his constant philandering, sinking into depression. Tired of the life and Picasso, it was in 1953 when Françoise left Picasso and married a year later.
Publishing Life with Picasso in 1964, Françoise's memoirs enraged Picasso and prompted him to sever all ties with her. After marrying again in 1970, she currently resides in New York.
Genevieve Laporte (In Picasso's life from 1951-1953)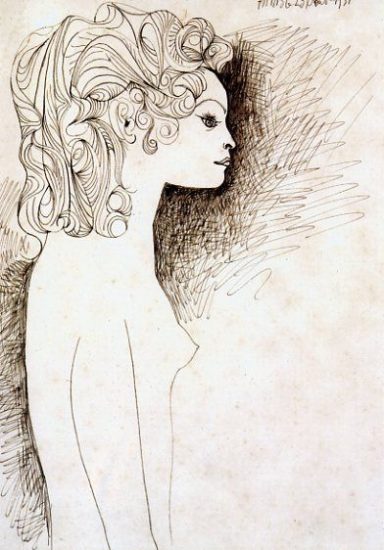 While living with Françoise, 24-year-old Genevieve Laporte visited the 70-year old Pablo Picasso at his studio and a love affair began. She declined Picasso's invitation to move in with him and left him in 1953 at the same time that Françoise left the artist.
In 1972 she went public with the affair and in 2005, auctioned 20 drawings of herself that Picasso created during their secret affair such as Portrait of Genevieve Laporte (1951). Picasso's work during this time is known as his "tender years" as they mainly revolve around his children and lighter subjects as can be seen in Paloma a l`orange (1951), Genevieve à la jacquette rayee (1951), Claude ecrivant (1951), Wood Owl Woman ceramic (1951) and Colombe volante (a l`Arc-en-ciel) (1952).
Jacqueline Roque (In Picasso's life from 1953-1973)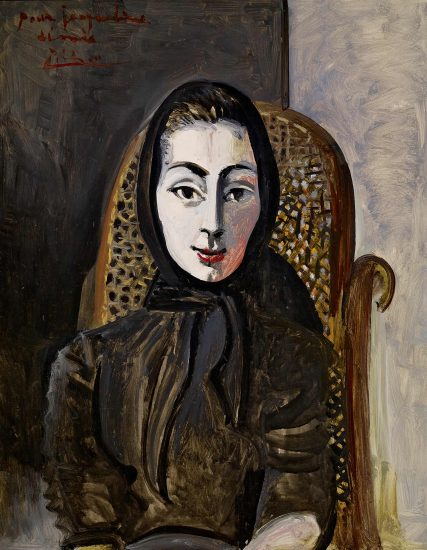 Alone and dejected, Pablo Picasso met the 27-year-old Jacqueline Roque at the studio where he created his Madoura Ceramics in 1953. Rebuking his advances at first, Jacqueline became consumed with Picasso, looking upon him as a God. In 1961, at the age of 79, he married her, though still continued to take other lovers.
During his 20 years with Jacqueline, he painted more than 400 pictures of her and created countless ceramics. It was a period of intense creativity with works such as Jacqueline with Flowers (1954), Jacqueline in Studio (1956), Jacqueline Rocque (1957), Portrait de Jacqueline (1957), Femme assise (1960), Jacqueline Getting Married (1961), Jacqueline`s Profile (1962) ceramic and Femme assise (Jacqueline) (1971).
Towards the end of Picasso's life he became almost a hermit, which his friends blamed on the possessiveness of Jacqueline, who even barred his children and grandchildren from their house for the sake of preserving Picasso's creative space. Picasso died in 1973 with Jacqueline right by his side and thirteen years later, she shot herself, having finally felt she secured his everlasting legacy.
Picasso left an impact on all of his women, positive and negative, but they in turn impacted him: his creativity, his art, and his life. He was by no means kind or faithful, but always expressed his feelings for them in his art, always drove himself to do better to show them, which is his lasting legacy. Without a specific lover to inspire at the right time, would those great works of art we hold dear today exist? It's possible Picasso's entire career could have shifted without the women he surrounded himself with and this is a testament to them, for they are not simply muses or lovers, but partners in his storied legacy and deserve the recognition.
REFERENCES:
Duncan, David Douglas. The private world of Pablo Picasso. New York: Harper & Bros., 1958.
EXHIBITIONS CENTERING ON PICASSO AND HIS MUSES:
Picasso: The Artist and His Muses. Vancouver Art Gallery, Canada.
November 1, 2013 – February 24, 2014. The Modern Muse. Hammer Galleries, New York.
June 25-October 27, 2013. Picasso: Nudity Set Free. Centre d'art La Malmaison at Cannes.
April 14 – July 15, 2011. Picasso and Marie-Thérèse. L'amour fou. Gagosian Gallery. New York.
2010-2012 Picasso – Masterpieces from the Musée National Picasso, Paris. (Traveling Exhibition)
BOOKS CENTERING ON PICASSO AND HIS MUSES:
Please enjoy our collection of Pablo Picasso portraits.
Read about gender equality in modern art.
*As an Amazon Associate I earn from qualifying purchases.