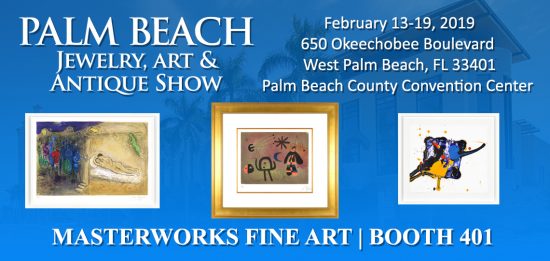 Join Masterworks Fine Art at the Palm Beach Jewelry, Art & Antique Show February 13th through the 19th.
Location:
Palm Beach County Convention Center
650 Okeechobee Boulevard
West Palm Beach, FL 33401
SHOW DATES:
Exclusive Vernissage Preview – Invitation Only
Wednesday, February 13, 2019 | 5:00 – 7:00 pm
Opening Night Preview Party
Wednesday, February 13, 2019 | 7:00 – 10:00 pm
General Admission Show Dates:
Thursday February 14 11am – 7pm
Friday February 15 11am – 7pm
Saturday February 16 11am – 7pm
Sunday February 17 11am – 7pm
Monday February 18 11am – 7pm
Tuesday February 19 11am – 6pm
We invite you to come by to enjoy the exclusive collection we will be bringing. Highlights including some of our favorite works by Sam Francis, Frank Stella, Picasso, Chagall, and more.
View additional information on Palm Beach Modern + Contemporary at: https://www.palmbeachshow.com/
Please email rod@masterworksfineart.com for complementary passes.