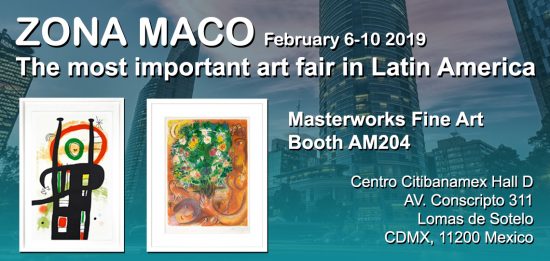 Join Masterworks Fine Art at  the ZONA MACO Art Fair this February 6th through the 10th in Mexico City.
Location:
Centro Citibanamex, Hall D
AV. Conscripto 311
Lomas de Sotelo
CDMX, 11200
SHOW DATES AND HOURS:
Wednesday February 6 -  16:00-21:00
Thursday February 7 through Saturday February 9 -  12:00-21:00
Sunday February 10 - 12:00-20:00
Established in 2002 by Zélika Garcia, ZONAMACO is the leading art fair in Latin America with four events that take place twice a year during February and August at Centro Citibanamex, Mexico City.
Each year ZONAMACO México Arte Contemporáneo brings together the largest selection of leading and emerging international galleries.
We invite you to come by Booth AM204 to enjoy the exclusive collection we will be bringing. Highlights including some of our favorite works by Andy Warhol, Sam Francis, Frank Stella, Picasso,  and more.
View additional information on ZONA MACO aby visiting https://zsonamaco.com