Dora Maar was born Henriette Theodora Markovitch in Paris on November 22, 1907. She was the daughter of a Croatian architect, Joseph Markovitch, and a French woman named Julie Voisin. When Maar was three, the family moved to Buenos Aires following her father's business prospects. While in Argentina, Maar fluently spoke Spanish and French, while learning to read in English.
In 1926 her family moved back to Paris where Maar attended the Academie Julian. It was around this time that she shortened her name to Dora Maar. Her main forms of art making were photography and painting. Dark humor filled her art and her life as she became part of a group of prominent Surrealists. Maar was involved in activist groups during the rise of fascism in Europe including one called Appel a la lutte (Call to the Struggle).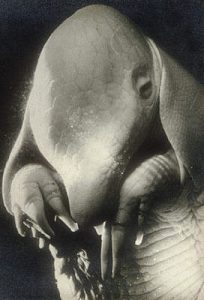 Maar first encountered Picasso in 1935 when she was a photographer on the set of Le Crime de Monsieur Lange. The pair were introduced by Paul Eluard, who would be a close friend of both. Picasso was 54 years old at the time and involved in an affair with Marie-Thérèse who had recently given birth to their daughter Maya. Maar remembered this first interaction, though it is said that Picasso did not. They met again in 1936 allegedly in a restaurant, where Picasso was with Paul Eluard. Maar was sitting at a nearby table wearing black lace gloves and playing with a knife. The tale goes that she would accidentally cut herself and a drop of crimson blood would spill over the lace. Picasso was entranced both by her appearance and her actions. He asked Eluard to introduce them and approached Dora in French – he was completely smitten when she replied in his native Spanish.
The two entered into a fully-fledged romance later that year when they spent an extended amount of time together at the house of mutual friend and Surrealist Lise Deharme in Saint-Tropez. Back in Paris, Maar moved into an apartment around the corner from Picasso's new studio. The political and social climate of the time created an intense environment for a romance. What is more, Picasso was still seeing Marie-Thérèse  and his daughter Maya frequently – a reality that was hard on both Marie-Therese and Maar. It is also during this time that Picasso created one of his greatest works of art, Guernica. Dora Maar was very involved in politics, and was certainly responsible for some of Picasso's interest in them around this time. Maar took up painting while she was involved with Picasso – but there is little influence  he had in her work.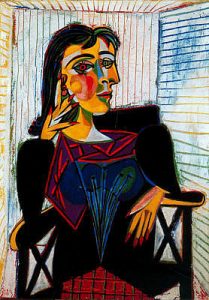 Picasso Portrait of Dora Maar, 1937By 1942 there was trouble in their relationship. Both were disheartened by current events and by the natural difficulties of a romance between two strong willed people. Maar became very jealous when Picasso met François Gilot, and did not handle their budding romance well. In 1946 Maar's affair with Picasso ended for good. She suffered a nervous breakdown which put her in a psychiatric hospital where she endured three weeks of electric shock treatment. Luckily, she was removed from the hospital and placed into a private clinic with the help of friend Paul Eluard. After two years in the clinic and getting heavily involved in the Roman Catholic Church, Maar resumed a more steady life.
Ten years after the end of their affair, Picasso continued to embarrass Maar and negatively impact her life. The two also exchanged a number of twisted gifts up until his death in 1973. Maar continued to paint and near the end of her life she sold some of her personal Picasso paintings in order to support herself. She died in 1997 at age 89.
References
Caws, Mary Ann. 'A tortured goddess,' The Guardian. October 6, 2000. Accessed November 10, 2016. https://www.theguardian.com/books/2000/oct/07/features.weekend
Freeman, Judi. Picasso and the Weeping Women: The Years of Marie-Thérèse & Dora Maar. Los Angeles: Los Angeles County Museum of Art, 1994.