[caption id="attachment_113583" align="aligncenter" width="400"]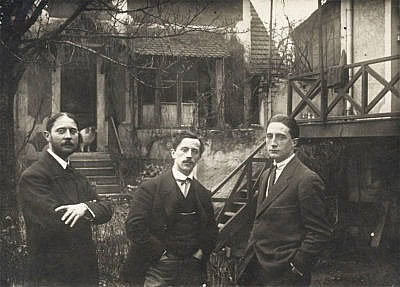 Jacques Villon photo[/caption]
Jacques Villon was born Gaston Duchamp in Normandy, France in 1875. He was one of 6 brothers and sisters. Two of his brothers, Marcel Duchamp and Raymond Duchamp-Villon, became artists, as well as their sister Suzanne Duchamp-Crotti. Villon's grandfather, Emile Frederic Nicolle, was a talented engraver who taught the craft to Villon. It was in 1891 that Jacques Villon created his first etching – an image of his father. He moved to Paris in 1895 to study law, but soon after left to study at L'Ecole des Beaux-Arts. This was the same time that he changed his name from Gaston Duchamp as an homage to French poet François Villon – this was also a way to differentiate himself from his siblings.
In 1903, Villon was part of the group that founded the Salon d'Automne, along with
Renoir
and Georges Rouault
. This exhibition was established as a counterpoint to the more traditional Salon, and was held in the fall. In 1905, Villon exhibited his work with his brother Raymond at the Galerie Legrip in Rouen. From 1904-1905 he studied at the Académie Julian. Around this time, he moved into painting as his primary art form, beginning in a Neo-Impressionist style. In 1911 he tried his hand at Cubism, and in 1912 was a founding member of Section d'Or, also called the Puteaux Group. This group consisted of French painters loosely joined by their Cubist style who associated until the onset of the First World War. Also in this Section d'Or were Villon's brothers Marcel and Raymond Duchamp.
In 1913, his art was exhibited and sold at the Armory Show in New York, and after this he gained fame in the United States, while remaining less-so in Europe. Villon served in the army during World War I and after the war he earned a living as a print maker. Villon became more famous post World War II, and in 1956 won 1st prize at the Carnegie International – one of the most celebrated exhibitions in North America. In 1958 he won grand prize at the Venice Biennale for painting. Villon died in Puteaux in 1963.ReferencesChilvers, Ian (ed.). The Oxford Dictionary of 20th Century Art. Oxford: Oxford University Press, 1998.

'Jacques Villon,' Guggenheim Museum. Accessed October 26, 2016. https://www.guggenheim.org/artwork/artist/jacques-villon