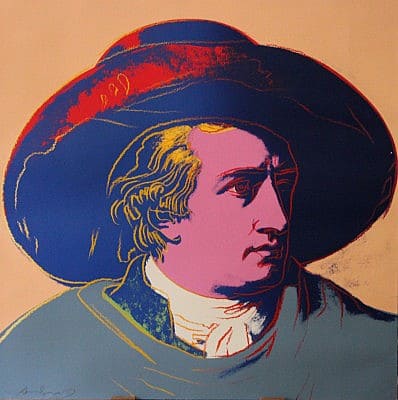 Introduction to Andy Warhol's Goethe Series, 1982
Considered by many as a leading cultural hero, Johann Wolfgang Von Goethe was also a polymath who became a prominent philosopher, scientist and color theorist. His literary contributions have been likened to that of Dante and Shakespeare. Those unfamiliar with Goethe will undoubtedly recognize his magnum opus Faust. Other notable works of his include The Sorrows of Young Werther, and Theory of Colours. Though he explored many fields, he is thought of as the greatest German literary figure of modern time.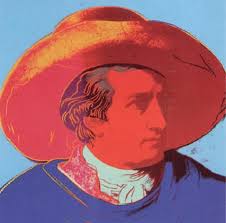 Theory of Colours
The Theory of Colours was published in 1810 and presented Goethe's views on the nature of colors and the ways colors are perceived by humans. He followed the unprecedented approach of examining colors as a science. To do so, he systematically studied the phenomenological properties of color and wrote this comprehensive review combining artistic and philosophical explorations of color. His theories of color were frequently called upon by artists such as Wassily Kandinsky and J.M.W. Turner.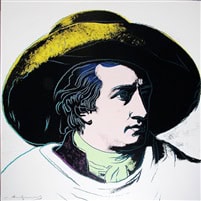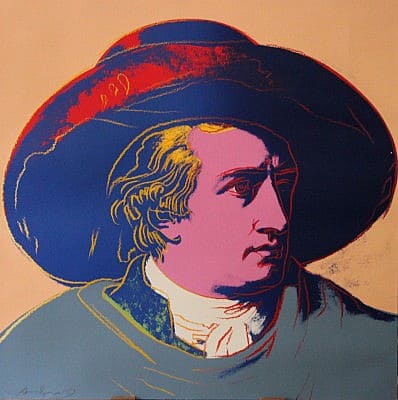 The Screen Prints
The entire portfolio is comprised of four screenprints. The source image for the screenprints was taken from a painting by Johann Tischbein. This portrait is regarded as the most famous portrait in Germany. In the original image, Goethe is seen sitting languidly in the foreground of a mountainous landscape.  His eyes, focused and contemplative, reveal the writer's intellectual fecundity. Andy Warhol was undoubtedly intrigued by Goethe's gaze as well. In each screenprint, Warhol removes the landscape background and instead focuses on Goethe's portrait profile. Seen at a glance, Warhol's imagery of Goethe even appears like a sculpture bust. As expected, Goethe's face is decorated with poppy colors in various shades. What results is a clear dichotomy between classical portraiture and the Pop aesthetic. These larger and life portraits ultimately symbolize Goethe's and Warhol's dominance of culture even in contemporary times.