Victor Vasarely was born Vásárely Gyözö in Pécs, Hungary on April 9, 1906. Known as the creator of Op Art (Optical Art), his legacy still continues to thrive internationally. With humble beginnings in Budapest, Vasarely let go of his medical studies and pursued a career in advertising graphics. Taught the principles of the Bauhaus, this was where the father of Op art learned the principles of the Bauhaus.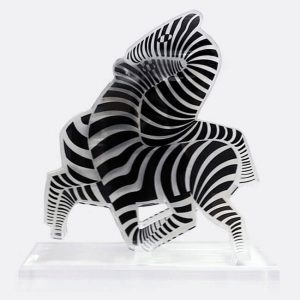 His famous Zebras underlies his approach and foundation to optical language. In it, we can see the form of geometric shapes and form combine into one harmonious artwork. He had no disregard to the progression of scientific technology as well as inventions; as a humanist, he believed art must be accessible to everyone.
As a recipient of numerous prestigious awards, including the Guggenheim Prize and the French Chevalier de l'ordre de la Légion d'honneur, he was widely influential for later artists such as Yaacov Agam .
Vasarely died in Paris on March 15, 1997; however, his legacy to abstract art lives on. His works showcase a convergence of material and architecture across any dimension. This is essential to Vasarely as an artist as well as his contribution to Op Art as a movement.
For more information, please check out the Victor Vasarely biography!