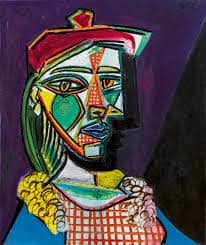 Pablo Picasso Femme au béret et à la robe quadrillée (Marie-Thérèse Walter (1937) brings forth an electrifying and moody work of art. Sold for roughly 49 million GBP to an unknown buyer, the quizzical portrait became available for sale at Sotheby's for the very first time.
This painting depicts another lover of Pablo Picasso: Marie-Thérèse Walter. The women of Picasso certainly provided much inspiration to his creative processes. As seen with Dora Maar and Jacqueline Roque, there is a plethora of works that convey the muse behind his artistic expression. In Femme au béret et à la robe quadrillée, one can see the curious and almost playful use of color. Picasso really explores the clashing color palette to illustrate Cubist style, marrying color to texture, as well as composition. It's expressive, daring, and edgy. All these prompt the viewer to figure out how important the subject or source of admiration is. Against the stark purple background, Marie-Thérèse stares back at us with a longing yet sensual gaze. We cannot help but stare back and wonder what her life was like with Pablo Picasso.
Painted and produced the same year as the famous Guernica, this portrait proves to be intriguingly powerful and important.