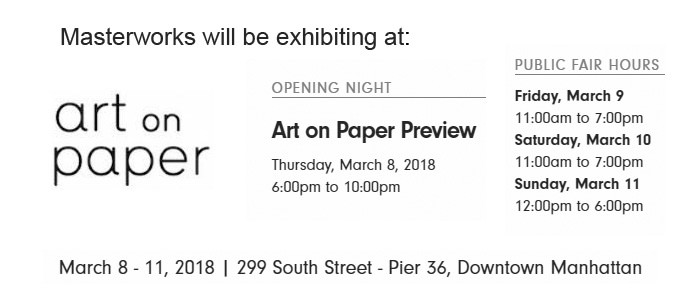 Please contact info@masterworksfineart.com for complementary tickets.
Join our gallery at the Premier Art show in NYC this week: Art on Paper NYC from March 8th to March 11th 2018. Art on Paper returns to downtown Manhattan's Pier 36 with eighty galleries featuring top modern and contemporary paper-based art. Art on Paper's medium-driven focus lends itself to significant projects - unique moments that have set the fair apart and established an important destination for the arts in New York City.
[ Can't make it to the show? Enjoy our candid photos of the show on our Instagram page ]
Masterworks will be bringing a specially curated selection of some of our favorite works by Chagall, Sam Francis, Leger, Matisse, Picasso and more. Highlights include: Pablo Picasso's Les Deux Saltimbanques: l'Arlequin et Sa Compagne (The Two Saltimbanques: The Harlequin and His Companion), c.1960, a gorgeously hued collotype with hand coloring in pochoir, exemplifying Picasso's Blue Period; Joan Miro Les deux Amis (The Two Friends), 1969, an impressive etching, aquatint, and carborundum rich with bright pigment and fascinating forms; and Frank Stella Hark! from Waves, II, 1988, an eye-scathing large color screen print, lithograph, and linocut with hand-coloring, marbling and collage, presenting a feast of dancing shapes and undulating lines. Stop by Masterworks' booth to say hi and experience the beauty and quality of these fascinating works and many others in person.
Art on Paper is presented by Art Market Productions. Since 2011 Art Market Productions has produced a different type of art fair that focuses on creating the highest quality fair experience by connecting collectors with dealers in the most optimal settings and contexts.
To view more information about New York Art on Paper 2018 please visit http://thepaperfair.com/ny .