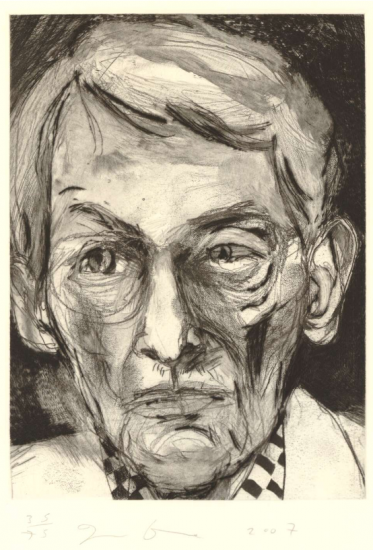 Aldo Crommelynck, one of the world's foremost intaglio printers, died in Paris on December 22, 2008 after a brief illness. He is survived by his adopted daughter, Corrine Buchet Crommelynck and his stepson, Jean Marie Buchet. His wife, Pep, passed away several years ago. A private funeral service was held in Paris.
Born in 1931 in Monaco, Crommelynck worked with three generations of artists. Initially as an employee of Roger Lacouriere in Paris beginning in 1947, he spent the years from 1948 – 1955 learning printmaking techniques and assisting numerous artists including Braque, Picasso, Matisse, and Miro. During this period, he formed an especially close working relationship with Picasso. In 1963, Picasso decided he needed a printer close by his house, in Notre-Dame-de-Vie in Mougins. Picasso would create etchings on copper plates supplied by Crommelynck in the morning and Crommelynck would return with proofs in the afternoon. When the proofing was complete, the plates went to Crommelynck's studio in Paris to become editions. Crommelynck's printed for Picasso for over twenty years and collaborating on most of his intaglio projects including the series "60", and "156", and culminating in 1968 with Picasso's Suite 347.
In addition to Picasso, Crommelynck printed for Braque, Matisse, Miro, Roualt, Masson, Leger, and Giacometti during their later years. After Picasso's death in 1973 and continuing into the early eighties, he printed in Paris for numerous contemporary artists including Jim Dine, Richard Hamilton, David Hockney, Harold Hodgkin, Jasper Johns, and David Salle.
Aldo and his brother Pierro had a falling out in 1984 which ended their business relationship and resulted in Pierro's attempt to take public credit for all of Aldo's collaborative successes. In 1986, Crommelynck formed a joint venture with Pace Editions Inc. and establish a printing studio with Pace in New York's Soho in addition to his Paris studio where he collaborated as a printed publisher with Chuck Close, Jim Dine, George Condo, Red Grooms, Alex Katz, Claes Oldenburg, Ed Ruscha, Joel Shapiro, Donald Sulton and Terry Winters.
In 1989, the Whitney Museum organized a tribute to Crommelynck, Aldo Crommelynck Master Prints with American Artists. He received the Grand Prix Nationale Des Metiers D'Art in 1989. Jim Dine and Aldo collaborated on over 100 prints from 1976 to 1997, many of which were included in an exhibition, Aldo et Moi, at the Bibliotheque Nationale de France, Paris in 2007.
In 2000, Aldo retired to Paris.