Located in le Cateau-Cambrésis, the Musée Matisse houses the third largest collection of Henri Matisse's work in France. Matisse was born and raised in le Cateau- Cambrésis, and it was here that he first began to explore his artistic potential.  While we often associate Matisse's bold use of color and light with the warmth of southern France, he grew up painting scenes from his daily life in northern France.
The Musée Matisse features works by Matisse and other artists associated with Matisse, relaying an all-encompassing impression of Matisse's life and work. The museum's collection began with 82 works donated by Matisse to the citizens of le Cateau-Cambrésis in 1952. Today, the collection has grown to include the personal collection of local artist Auguste Herbin, who created abstract and geometric art, and the collection of Alice Tériade, widow of Matisse's art publisher. With further donations from the Matisse family, the Musée Matisse flourishes in its current location at the renovated 18th century Palais Fénelon.
The Musée Matisse is divided into three sections (Matisse, Herbin, and Tériade) – one for each major donor. As Art and Antiques writer Ivor Hughes states in "A Curatorial Collage," "In each [section] you can see the master's passion for color, drawing, poetry, beautiful models, and plasticity" (Hughes, "A Curatorial Collage," 43). The museum displays a range of works by different artists in different styles and mediums, painting a picture of Matisse's life and providing distinct points of contrast to his works.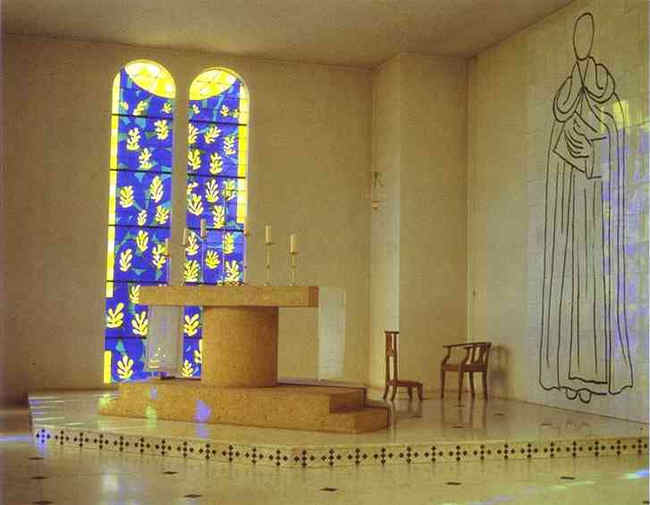 Amongst the major works at the museum is a scale model of the Chapelle du Rosaire in Vence, a project that Matisse became involved in through association with his caretaker Monique Bourgeois. After devotedly looking after Matisse for 3 years, Monique joined the Dominican covenant in Vence as Sister Jacques-Marie. She convinced Matisse to work on the new chapel for the covenant, and he proceeded to devote the last four years of his life to this monumental project.
While we cannot always whisk away to le Cateau-Cambrésis, we can enjoy Matisse's stunning artwork from the comfort of our own homes. Masterworks Fine Art currently has a range of original Matisse lithographs and etchings on display.
We invite you to browse our Matisse inventory for further insight into Matisse's skillful use of color and light.
Information derived from: Hughes, Ivor. "A Curatorial Collage." Art & Antiques, May 2013, 42-47.