Article written January 2002 by DECOR Magazine.
Alex Adelman's path to being a gallery owner has been somewhat circuitous. Although he's been a collector of fine art since he was 15, his studies led him not only to art history, and printmaking, but to anthropology and archaeology as well. Then in the late 1980's, while working on an anthropology dissertation, he made an abrupt decision to return to the States and switch gears again back into fine art mode.
Adelman accepted a position as a salesman for a large corporate chain of galleries, eventually becoming the director of its largest location. After six years of learning -- as he puts it-- how to sell and not to sell artwork, he decided to strike out on his own. So in 1993, he became one of the pioneers of selling artwork online, running a virtual gallery from his home in Berkeley, California. This model has proved successful for Adelman, who still does the bulk of his transactions online...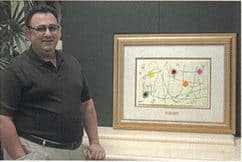 Alex Adelman with framed
"L'Issue Derobee"
, by Joan Miró
Adelman has strong opinions on the way that fine art should be presented and sold, including a scholar's passion for exhaustive documentation and an epicure's taste for expensive framing. "I think of a picture frame as a window into what the artist is trying to do," says Adelman. And because the work he offers includes signed originals that may be worth upwards of $1 million or more, high-quality experts framing seems appropriate. To that end, Adelman's custom framer Baxter Quinn play an integral role in his business. After eight years of collaboration, Adelman says that he is very comfortable allowing Quinn to initiate framing design ideas. "By this point we dance very well together," says Adelman. "I sometimes ask for a wider mat or fillet, or something of that nature, but in general I have the highest regard for Baxter's work."
Joan Miró (1893 - 1983) was a well-known 20th century artist from Spain. Influenced early on by fauvism and cubism, Miró's style became increasingly abstract and experimental. During his stay in France before and during the Spanish civil War in the 1930s, he became associated first with the Dada movement and later with the Surrealists.
The work shown is L'Issue Derobee, a color etching, aquatint and embossing executed by Miró in 1974. The work is signed by the artist in the lower right and numbered 32/200 in the lower left. Adelman estimates that the work might sell in the $8,500 range at other galleries, but it is his policy to assign a price that is well below retail, which encourages his clients to come back for more, and entices other dealers who may be able to sell the piece themselves at a substantial markup.
To frame the piece, Adelman and Quinn used a 3 1/1" wide cold leaf frame with a double dutch compo pattern from Decor Molding. The fillet is a Larson-Juhl 1/2" composition gold leaf fillet from the Vienna Collection. The fabric used in an off-white antique satin domestic 50:50 rayon/acetate blend.
Adelman has an admitted penchant for expensive, "glitzy" framing treatments for the fine art he offers. In this particular case, the opulence of the gold is a nice contrast to the simplicity of the subject matter, and the antique white fabric in now way detracts from or competes with the artwork. It seems fitting that DECOR should feature Adelman with a Miró etching, since it was the acquisition of a Miró at the tender age of 15 that began Adelman's life-long passion for collecting fine art.