Works of art are subject to a variety of disfiguring ills, many of them caused by environmental and human effects.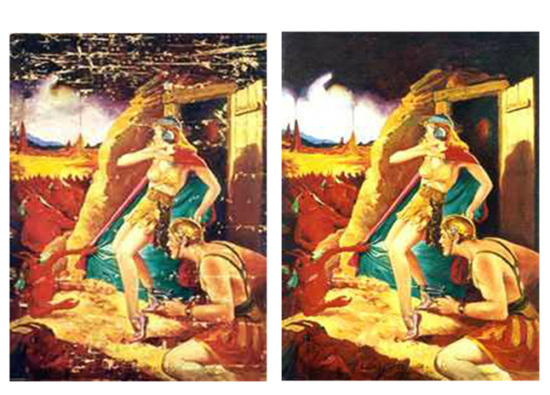 These ills can range from small tears, stains, to natural aging to the damage caused by fluctuations of temperature and light exposure. The inks and paints that the artist themselves use can contain acids as well, and a good conservator can deacidify a work often making the work even more archival then when created.
Much of modern conservation is directed toward producing a stable, favorable situation for the display of art works and maintaining regular inspection and diagnostic procedures to combat deterioration. The conservation of a work in need of repair is done by a conservator whose work is guided by high ethical standards. Their mission is to preserve the history of the work, while at the same time bringing it back to its original state to convey the original intent and message of the artist. Museums, and other institutions of archives, often have very strict guidelines as to how their works are conserved and preserved due to the necessity that everything the conservator does to the piece must be reversible. As an art gallery we rely on the conservator for their skills and ability of inspection, to judge the condition of our works, as well as their knowledge and professionalism for when we do need them.
Effective art conservation and restoration ultimately depends upon the conservationist's understanding of materials, technical craftsmanship, and aesthetic and historical awareness. One conservationist in particular that Masterworks Fine Art has been using for years to inspect and guide our decisions concerning the potential problems of a piece, is Diane Jeffrey of Studio Conservation Inc. She has been an instrumental aid in our success as a business and offers over 25 services designed to preserve and conserve not just original works of art, but paper, posters, and other collectibles as well. Please feel free to view her website at http://www.atstudioc.com to see what she can do for your conservation needs as she is the only one we trust for ours, or you may contact her directly at (760)721-5528 or toll free at (800) 583-8379 for any inquiries.
Sheryl McMahan                                                                                     Curatorial Registrar